Polyglot Pandharibai (1928-2003)

Polyglot is too short a term to explain the multifaceted personality of Pandharibai who has more than 300 movies in seven languages to her credit. Besides, she was a stage artist, a Harikatha raconteur, singer, translator and a poet. It is amazing that she attained all these with a schooling background of seventh standard in Kannada.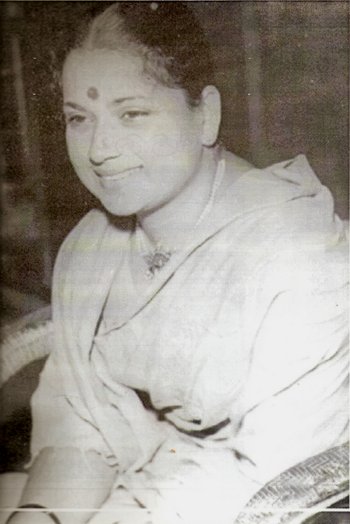 Pandharibai was born of Konkani Saraswat couple Mangalur Rangarao and Kaveribai of Bhatkal (North Kanara district, Karnataka). One of the ten surviving children of the eighteen born, Pandharibai knew what abject poverty was. Her father was a famous Harikatha vidwan, singer and a small time artiste with bohemian traits. It was her mother who brought up the children on her meager salary of Rs.20 per month as a school- teacher, amidst endless responsibilities with her ever-growing family. Being the eldest daughter, Pandharibai had to be the helping hand in all the household chores.
Her appearance on the stage was sudden and unexpected. The heroine did not turn up at the nick of time and left the manager, Pandharibai's elder brother in utter despair. He suddenly had a brainwave and brought his talented sibling who used to attend rehearsals with avid interest and knew the dialogues. Their father was fiercely opposing this move but mother Kaveramma interfered and the all-sold out show was a great success at Mysore in 1940s. T. Chowdaih, the great violinist, Hiranayya Sr., the superb actor and Hunsoor Krishnamuthy, distinguished writer and critic were some of the luminaries who attended the show. They were all praise for the child prodigy's first performance. Her role was that of a child bride of an old man in the play "Mudukana Maduve".
Pandharibai inherited her father's spiritual traits besides other talents as well. She was a great devotee of Vithala of Pandharpur, from her childhood. Her enraptured state while performing Harikatha was talk of the town. She used to accompany her roving father to many places of north Karnataka. Her early attempts to learn Sanskrit, Marathi and Kannada paid rich dividends. As she bloomed into a shapely, fair and lovely woman with round face and chiseled features, she came into great demand in Kannada, Telugu, Tamil and Malayalam movies, for all of which Chennai (then Madras) was the center. But soon her dignified and grave demeanor was found to be more befitting for mother's role. She is one more rare person who acted as heroine to stalwarts like N.T.Ramarao, Rajkumar, Sivaji Ganesan, Kalyankumar etc., and later as their "mother" or "aunt" as well. Her versatility attracted the Bollywood too and she had a role in a movie called "Bhabhi", which was a hit. In Kannada she was paired with K.S. Ashwath who together featured in 35 movies.
She built a temple for Vitthala, her favorite deity in Vadapalani, Madras being disappointed after facing many administrative hurdles in Bangalore, then her hometown. Many great names of south Indian cine world used to spend some of their spare time in the huge peaceful premises of the temple. Late in life, after all her siblings were securely settled, she married Rama Rao of Mandya, a pious, wealthy man who liked theater immensely and sponsored plays.
Pandharibai translated Jnaneshwari, the renowned commentary on Bhagavadgita by saint-poet Jnaneshwar from Marathi to Kannada, which is yet to be published. In addition to her filmy carrier she used to perform Harikathas and stage plays as well. She has composed many devotional songs befitting Harikatha.
In 1994 she lost her left hand, below elbow when a wayward lorry hit her while crossing the road. She recovered through proper medication and eternal nursing of her husband. She spent later life in worship, meditation and occasional discourses till her end in 2003. Indian cine world is yet to witness such a multifaceted artist.
Many thanks to Prof. C.S.Nanujundiah for some information and pictures. His book 'Amma Pandharibai' (Published by Abhiruchi Prakashana, Shimoga) produced after painstaking research, throws light on life and achievements of this marvel movie person.