Dhanushkoti -- Poem by B M Shrikantiah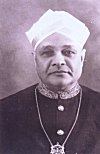 Prof. B.M. Srikantiah (1884-1946), doyen among Kannada writers of 20th century, lost his wife Devamma when he was twenty-eight and she was twenty-one. She died while giving birth to their fourth child.
This poem was born when B.M. Sri, shattered and forlorn, was wandering aimlessly on the sea shore of Dhanushkoti, Tamilnadu in 1912.

Dead and dead
Dead is the lift of my life
O gone from my eyes the darting head
Gone, my love, my life.

Twelve years since I wedded thee,
O my darling, my joy, my wife!
And hardly six years you lived with me,
Six summers you sweetened my life.

A quiet and happy life was mine
And I trust I was good to thee,
So soft, so sweet, so still was thine,
So good, so kind to me.

And children came, and grief, and cares
Our only boy was blind.
We prayed to God for strength to bear,
And He gave us a meek mind.

So shyly the path of life we trod,
Too mild his spite to stir,
Yet, suddenly, soon, how soon, O God!
Death laid his hand on her!

We will burn her, take her up,
Her task in the home is done,
No more can I drink of her rich love, cup
Beneath or above the sun.

You will make me a home with a wife again.
You will bring to the bruised heart balm?
I am broken, you think, and wild with pain?
-No, no, I can lose and be calm.

Don"t tell me she is dead: no no not dead-
She lives within my heart,
Now to my soul her soul wed-
Will death come, try, and part?

Here in sight of this heaving sea,
And that sinking, broad, red sun,
I vow my love"s deep loyalty
To her till my race is run.

And listen, my Angel, the rest of my way-
Thy ministry now is mine:
No longer to pine for the flesh, but to pray
And follow the Guide Divine.

The motherless ones you have left, sweet wife,
My fatherless brothers you cherished,
For them will I crush the wine of my life,
For them shall my life be nourished.

Loving the Muses teaching the boys
And planning a song or two
In my own sweet tongue-Oh these are my joys
These are my pledges to you.

I dare not hope to be sinless quite
Or never be shamed by wrong:
But will you not dwell in my heart, Oh light
Of my life and my love and my song?

Some day, some one may bless my name
And make me rejoice glad I lived on,
Kindled in soul by thy glowing flame,
Till I too die and am gone.
Reference: Sree Utsava, A felicitation volume by Srimati Vishalakshi (B.M.Sri's daughter), published by Kannada Sahitya Parishat, Chamrajpet, Bangalore 560018, India