Visitor's Log at Gersoppa Falls

Late Armando Menezes (1902-1983) was a distinguished educationist, poet, writer and professor of English at the Karnataka University Dharwad. His selected works have been brought out in a collection, "The Cradle of My Dreams" by his sons Louis and Ignatius Menezes (Chennai 2002). This selected passage below is from his essay on Gersoppa Falls, better known as Jog Falls, which he visited seventy years ago. His musings on the visitors' book at the Traveller's Bunglow make an interesting reading.

© K.L.Kamat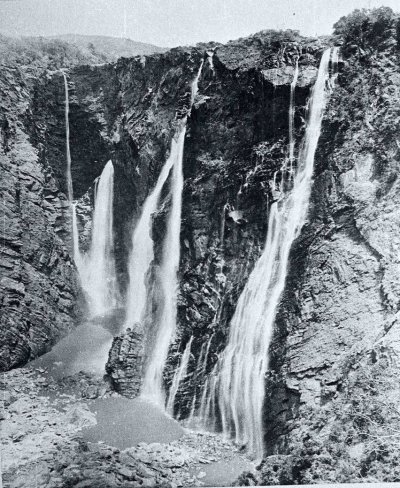 Streams Named Raja, Roarer, Rocket and Lady
River Sharavati sprinting down the Sahyadri mountains near Hoanavar
"Who can stand over this mighty spectacle, says one, and disbelieve in a Creator? No, says another, the most cogent position-topographically as well as theologically speaking-is below, in the pool. One man has been tapping the dark-gray rocks with a little hammer and hints at geological possibilities. Another laments the huge waste of "uncaptured" power. A third promises excellent fishing a certain number of feet above, or is it below? The Falls. One brave Englishman has, somewhere in the nineteenth century, made a perilous crossing on foot, through a merciful barrage of rocks, and . . . "how he perspired"!
Voices from the past! From what civil servants and reverend chaplains and incoherent army officers, forgotten dust long since! What mysterious force drew them here, on horse back or country-cart, over sketchy roads, that, after a sojourn long or brief, they might "find the Patel very useful and the food satisfactory"?
Strange midnight fascination that made us plod through ponderous verbosity and indifferent English through changing modes of that same shrill omnipresent ego, impregnable to the last, which not that incessant, relentless artillery of beauty could subdue!
And, though I am here on a folly-haunt, I confess I was able to sympathize with the strange whim of that visitor who left on record that "suicide would be pleasant here"! A morbid thought, to be sure, yet, some forgetfulness of that ever-urgent self! For this, I forgive the poor man even his morbidity. I later learnt its cause: there was a girl in the case. But even apart from this particular irritant, beauty does get some men so. Why should beauty make us sad? Is it because it is ever beyond us, ever incomprehensible; or is it because it comes to us with certain intimations of eternal beauty whose final price is death?
It was in this very Traveller's Bungalow, that a two-year old page of the Visitor"s Book angled for another of my peculiar follies. It was all the work of an all too sincere tourist, or was he perhaps a master-satirist?. He simply said he did not like the Falls; that all that had kept him there was a fine roast chicken; when that was eaten, he was off. Between the last pickings of his lunch and his disgusted departure he had just found the time to record his impressions. These tempted me to my second fall. I fell for the chicken. With all that power and majesty behind me, I am ashamed to own, I wrote a satire! Wrote it on the margin of that two-year old page:

O Fool who ate and wrote in haste;
That all who read must hate it;
A roasted chicken has more taste
Than you who blindly ate it.

I copy it here for my eternal monument...

They say that it's but a step from the sublime to the ridiculous. I measured it myself that fateful step. It yawned perilously between the edge of dark-gray rock over which the waters plunged and the two Visitors' Books on the British and the Mysore side of the Gersoppa Falls.

See Also:
• Visit to the Jog Falls in 1947
• Queen of Gersoppa