M.K. Indira

A Phenomenon Called M.K. Indira (1917-1994)

A distinguished Kannada writer, whose education ended at middle second standard.

© K.L.Kamat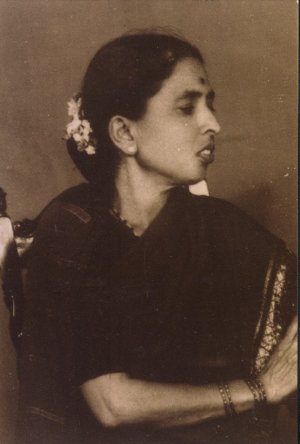 Portrait of M. K. Indira
Most famous for her work "Phaniyamma", Indira is a popular Kannada author
M.K. Indira's first novel appeared when she was forty-five. With one novel "Tunga Bhadra" she shot into fame. Later in her twenty-two year literary career, she wrote 48 novels and 15 collections of short stories, one biography, one film appreciation book and ab unfinished autobiography. She earned a lot of money out of writing (a rare occurrence on Kannada literary scene). She lost it as quickly and died almost a pauper.
All this because she was as impractical as she was a genius. That was M.K.Indira, a unique writer, who proved that literary training or academic background were not essential to make a good writer and that a writer is a born genius.
It was keen observation, deep and sound knowledge of the local milieu, an in born sense of humor, humane approach to men, matter and environment and an attractive style made Indira a celebrated writer.
In a remote village of Shimoga district known for beautiful nature and man-made rich plantations, Indira was born to T. Suryanarayana Rao a prosperous agriculturist, and Banashankaramma in 1917. Her mother was a talented lady who could play the harmonium, sing, embroider and knew hundreds of traditional songs by-heart. She was an excellent housewife as well. Indira had no opportunity to pursue her studies, but cultivated art of reading. Married at the age of twelve to M. Krishna Rao who ran short motor service, Indira had chance to move between small towns. She became a mother at seventeen. They had eight children of whom only four survived, three boys and a girl.
Indira turned a writer by accident. One evening she sat with her relatives recollecting several touching incidents in their life around Tungabhadra river. Though she and others were aware of her literary flair, she had not ventured at writing. After the meeting she wrote her first novel " Tungabhadra" with blind twins as central characters. Her cousin Dr. H.K. Ranganath, a celebrated broadcaster, and writer liked the novel and gave the MSS for consideration to late G.B. Joshi, doyen among publishers. He gave it to the distinguished critic and literary adviser to his Manohara Granthamala, Prof. Kirtinath Kurtakoti.
Indira had no other copy of the manuscript. Kurtakoti had kept the manuscript in a leather hand bag along with cash and other valuables which was lost in the Bombay rush during office hour.
Both the publisher and adviser had shock of their life. They felt that grave injustice was done to writer in her maiden attempt. Both apologized profusely and requested Indira to rewrite from whatever notes and sketches she had preserved.
Indira had none!
But she faced her life's challenge and rewrote the entire novel from sheer memory and completed it in a fortnight. The publisher who had read the lost manuscript could not believe this miracle. In fact, he found the recast novel more polished and style, more attractive.
"Tungabhadra" was a rage. Overnight it established Indira as good novelist and one after the other her novels came out. She received a number of awards. Her works became college-texts. They were translated in other Indian languages. Five of her novels were turned into movies, which became hits. "Phaniyamma" won national and international awards.
One scholar obtained doctorate degree by doing research on her life and works. A felicitation volume consisting of scholarly essays and reminiscences was offered on her 75th birthday.
In the days when television with its multi-channels had not appeared on Indian scene (in 60s and 70s of last century) fiction-reading was a popular pastime with housewives and teenagers. Widows, devadasis, poor teachers and workers turned lively characters with Indira's competent pen. Her vivid description of village life and plantation life, middle class milieu surrounding rivers, hills and forests caught the the fancy of Kannada readers irrespective of age. Her works saw several editions.
Due to financial mismanagement, Indira had to manage on the meager pension of 500 Rupees a month. The house, the government graciously promised, remained on paper only. She spent difficult days after a short stint in a private nursing home (1994).
Her novels and short stories in different editions had a good fan-following in her heyday. Thus ended Indiramma's wonder career as a writer.
See Also:
• Review of Phaniyamma Movie
• Usha Navartnaram
• Kannada Writer Nemichandra
• Kannada Writers