Sharif, the Saint Poet of Shishunal

Muhammad Sharif better known as Sharif of Shishunal (1819- 1889) is a splendid example of Indian Sufi tradition wherein Islamic and Hindu spiritual traits mingled inseparably. He was born at Shishunal village near Gudgeri railway station on Hubli-Banaglore route. His parents, Imam Hazrat Saheb and Hajjuma were childless for many years and finally Sharif was born with the blessing of Khader Shah Wali, whose tomb -- supposed to be wish fulfilling -- existed in nearby village of Hugular.

Sharif studied at the Kannada village school and passed Mulki (VII standard) . He studied Marathi and Urdu as well and composed poems in all the three languages. He read Ramayana, Mahabharata and several other Kannada classics at a fairly young age. He participated in all Hindu and Muslim festivals, with equal enthusiasm, and enacted in folk –plays.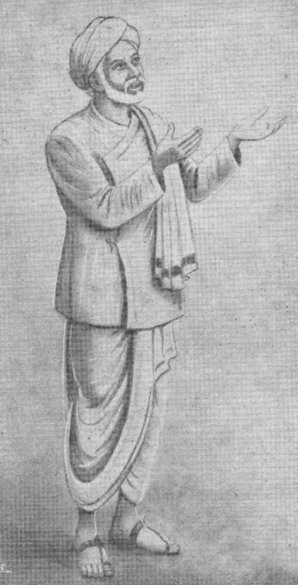 For a short while, he worked as a primary school teacher in nearby villages. But the inner or spiritual call was too strong and he went in search of a Guru who would provide guidance in many of the puzzles he was facing while reading religious texts. Finally he met Govinda Bhatta, a Smartha Brahmin who professed Adi Shankara's philosophy of monism. Govinda Bhatta could at once gauze this Muslim devotee's deep insight and hunger for spiritual knowledge. Sharif became his disciple. His devotion to Guru reflects in many of Sharif's compositions.
A Muslim devotee for a conservative Brahmin Guru! Similar thing had happened in Varanasi, 400 years ago, when Kabir had pleaded with Ramanand to be his Guru. Both Kabir and Sharif were born poets ,and their quest for self-realisation under able preceptors, made their perception clearer. They wrote hundreds of verses, trying to reform society. They condemned superstitions, advocated castelessness and laughed at hypocrisy. They regaled the audience by bringing in familiar anecdotes.
Sharif was an avowed folk-poet. Local legends, deities, phrases, idiom and anecdotes abound in his compositions. Along with musical flavor, one is able to visualise social milieu of his times. Most of his verses have double meaning. His very popular songs like 'Let us go for a picnic' (allikerige hogona) 'Let us see God's chariot' (teraneleyutara tangi) "join for swing game" (jokali jeekona) have all legends and similes of everyday life but they ultimately convey eternal or otherworldly message. The homely similes are endearing and the lyrical quality is catching. The local flavor is lost in translation and few have tried to translate Sharif's compositions into English.
Like the Vachanas of Virasaiva saints or Sarvajna, Sharif's compositions are very popular for their universal appeal as well. During his life time he was surrounded all the time by followers and admirers, some of whom took down verses which poured out extempore. His criticism of blind beliefs both in Muslim and Hindu communities were never taken amiss, and have survived today because of the sting clothed in pleasant and appealing language. He profusely used local slang.
Profoundly knowledgeable and well-traveled, Sharif lived at Shishunal village most of the time, teaching monism, composing poems or spreading universal traits like love, charity, unstinted devotion to Guru and God. He was beloved of both Hindus and Muslims.
He died on the very date of his birth viz- 7th of March 1889. A simple tomb (gadduge or sacred seat in Kannada) exists in Shishunal village under plenty of shade of huge tree amidst flowering creepers. On the left side, Muslim devotees perform namaz and offer sugar. Hindus offer comphor, fruit and arati, coconut, and pray. 'Sharifajja' is grandfather of all. It is the highest tribute paid by Kannada people to a unique saint who enriched their spiritual and social life in no small measure at the same time, with a very simple existence.