Tilak in Gadag 1916
Tilak and Prohibition on Haranguing!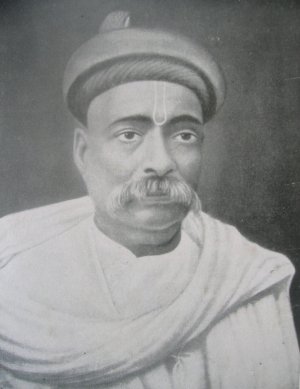 Alur Venkat Rao veteran among revivalists of culture of Karnataka was greatly influenced by Lokmanya Bal Gangadhar Tilak, right from his student days in Pune, and had regular contacts with him. In his auto-biography, Alur has recollected certain anecdotes associated with the great leader. Tilak's visit to Gadag in June 1916 is one of them.
Tilak turned 60 during that year and it was decided to present a purse to him for his nationalistic activities. Alur took the lead to collect funds in North Karnataka. British Government had again filed a case of sedition on Tilak's very birthday and the high-court had declared his innocence. Later, he had arrived in Karnataka to propagate his Swadeshi movement. Alur accompanied him to Gadag, where a huge crowd was waiting to listen to them.
The collector (Deputy Commissioner who heads a district, these days), of Dharwad district was camping at Gadag at the time. He seems to have been firm on not allowing Tilak with any "speech-making". The police arrived on the spot and asked people to disperse. Alur approached the police superintendent and asked for the order, preventing Tilak, from making a speech. He did not oblige. The people gathered did not budge. It was then decided by Tilak to start the proceedings and asked Alur to speak.
When Tilak started his speech, the Superintendent of Police showed the collector's order. Tilak read it, put it in his pocket and declared, "I shall obey this order, and yet make a speech!" The superintendent was bewildered. Tilak laughed and said, "I am told not to do any haranguing. Harangue means "an exciting speech" I will not do anything of the sort!" The police officer was further confused and told Tilak that he will bring a copy of the fresh order from the collector preventing speech. Tilak sat down.
Alur thought that Tilak would continue with the address as soon as the police officer left. But Tilak waited patiently, so did the crowd. When requested by Alur to speak, Tilak said "This is a war of wits! They can arrest us at the slightest excuse. They are rulers. We should be ever-ready for arrest. People should themselves realize the wrongful attitude of rulers. . . . . I interpreted the word "haranguing" as inciting speech. But after-all it is the British government which decides that the speech is inciting or not. Let them declare that a speech of any other kind is not allowed". He waited quietly.
The collector had no courage to issue a fresh order! Tilak spoke as planned and the people were happy.

Links:
• Stories of India's Freedom Struggle
• Tilak's Release Certificate, 1898
• Stamp Commemorating Swaraj