With Kamat in Remote Bastar (1976)

Kamat's Kalaranga (in Kannada) has been out of print for some years and I just now finished proof-reading of its second edition, and I thought I'd document some memories of tribal life I experienced (and so documented in several of Kamat's books)

It was Dasara time (October 1976). I availed of a month's leave at the All India Radio station of Bangalore where I was working, and joined my husband at Chhindwada (then in Madhya Pradesh) where he was camping on way to Bastar. He had availed of the fellowship of Karnataka Sahitya Academy, to study and write a book on different tribals of that district, which in area was equal to the state of Kerala. It has since been divided and a separate state has altogether come into existence, Chhattisgadh. I wonder how the political and administrative bifurcation has affected the peace-loving and shy aboriginals, who though utterly poor, loved life, sang and danced and seemed contented, in the quiet and inaccessible surroundings.

© K.L.Kamat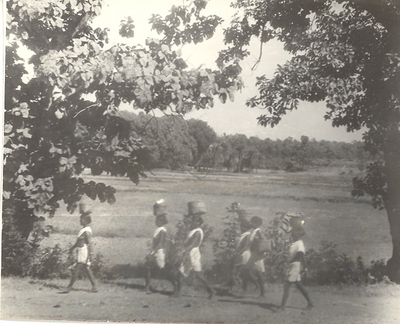 On the way to bastar fair
, Jagdalpur, bastar
The discovery of tin and iron ore in Bastar has changed the locals tremendously. The forests are gone. The "Children of Forests" have become laborers, and have practically given up all their tribal traits. But in October of 1976, while wandering in hills and dales with Kamat, the scenery was different. Kamat had no tele-lens or other suitable equipment for outdoor shooting. But click he did, to capture some of the poignant sights. From a distance he clicked a group of Muria women, going to village fair, bare footed and bare-breasted. With head-loads, walking briskly, they formed part of the rural scenario along with the foliage, rising sun and hurrying mood. Any attempts to move nearer to them would have made them run away for life!
Tribals are extremely shy of the camera.
Near Modnar Village we met a shy young girl in short saree. She was wearing a necklace of silver coins which she allowed me to touch. The coins were all in Arabic (Urdu) script and I could hardly read as some of the letters worn out. This jewelry passes from mother to daughter over generations [(24021)]. Kamat photographed the Dasara at Jagdalpur and life at Chhote donger. We then returned to Chhindwada.
© K.L.Kamat



A gonda women from chindawada
, Chindawada
The Gonds round about Chhindwada are of different ethnic group than tribals of Bastar. They are influenced more by Hindu religious rites and wear Bindi. Their jewelry is of different pattern. Two women were sitting by roadside sans-bindi indicating thereby that they are widows. But they had heavy silver anklets. One of them was selling live fowls. These Gond women covered their heads with pallu, which was in tune with the local customs, and wore the yard-Saree, breech-like with parted pleats.
© K.L.Kamat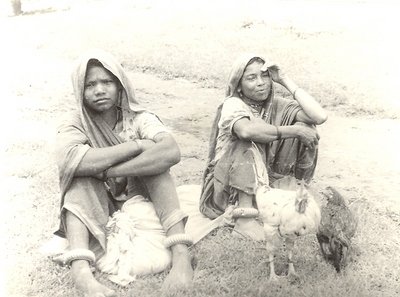 At the village fair
, Chindawada
© K.L.Kamat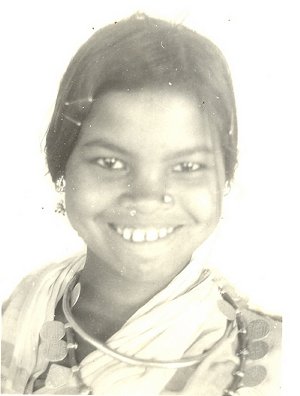 Halbi girl, necklace of coins
, Jagdalpur, bastar
Bullock-carts in Chhindwads are toy-like with very small wheels and very light cane-joints. The bullocks are also small-sized, slightly bigger than rams!. Chakda or Cart race of bullocks in this area draws crowds in thousands. These were few of the glimpses of tribals of Madhya Pradesh I had during my short stay.
© K.L.Kamat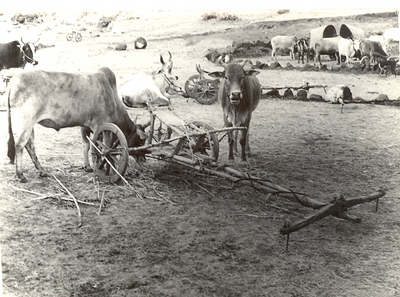 bullock carts at chindwada
, Chindawada