Bhyrappa and Kamats

If Shivaram Karanth is the 'Titan' of the world of Kannada novels, S.L. Bhyrappa is a 'Phenomenon'. All the novels Bhyrappa wrote during his fifty and odd years of writing, are a hit and his recent one has undergone more than twenty editions within a span of few months. That is a record in Kannada or other Indian languages, perhaps. His versatility in choosing the themes (social, mythological or historical) is unique, style attractive and presentation, fascinating. He surpasses in painstaking research, aiming at authenticity of situations and characters in historical novels. Creativity and such deep erudition need not go together, necessarily in imaginative workmanship of a novel. But Bhyrappa has both.

© K.L.Kamat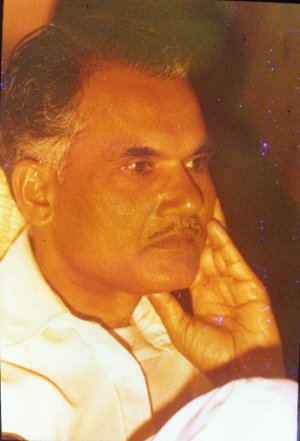 Portrait of S. L. Bhyrappa
Photograph circa 1984, Mysore
Aiming at authenticity
I find it extremely difficult to assess overall view of Bhyrappa's works. Each novel presents, different facets of the Great Indian Ethos. I will only mention one or two instances, of his humanism and his assessment of human nature.
© K.L.Kamat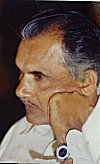 Thinking of his next great novel -- S.L. Bhyrappa
A genuine smile
I met Dr. S.L. Bhyrappa for the first time during 1980-81, when I was about to assume my duties at All India Radio Station of Mysore and he was planning a long trip to United States. He is not fond of meeting people or making public appearance, unless he is forced by his fans and countless admirers. But I somehow succeeded in bringing him home to meet Kamat, when the latter had a chance to click our favorite author. Two pictures are reproduced with this article.
Bhyrappa liked his pictures immensely and called to express his admiration. He exclaimed that per chance, The pass-port officials stumbled on these clickings, they would suspect of some "fraud" on his part! He looked so cheerful and young in pictures. By and large Dr. Bhyrappa is a rather serious person.
Kamat seems to have taught him to smile on his candid camera! muskurana sikhadiya!)
Kamat enjoyed good rapport with Bhyrappa. We were invited to Bhyrappa's place twice for dinner, during my Mysore stay. Saraswati, his wife is a warm and cordial host and a very good cook. Her liberal servings left me overfed, every time I visited them.
Bhyrappa was the first literateur to call and express his condolences when my husband passed away suddenly.
"He was your Sakha (friend) in every sense of the term. I can imagine your grief and loss"" he exclaimed. He had judged Kamat correctly. In the Indian context, to treat wife as a friend is a rare trait and Bhyrappa had noticed it. Later, I requested Bhyrappa to write a few lines about my late husband for a commemorative volume by way of tribute. He readily obliged. His tribute is quite brief, but provides insight about his grasp of human nature. Even when the meeting is brief, Bhyrappa is able to assess the person in toto.
His tribute in Kannada entitled ("swatantravagi badukida hakki") is provide in translation:-

When I learnt from the newspaper that Krishnanand Kamat suddenly passed away, I could not believe it. I called Jyotsna at once, and I had to believe. A freebird, he flew back, without loosing an iota of freedom, or falling ill at all! The cause for distress is that he left a bit too early.
Any other person, who had received the highest training abroad and could not get a suitable job in India like him, would have returned to United States. Krishnanand did not. He did not find it a proper way. He questioned himself. "is it not possible to earn a living in India without a salaried job?' His ideal was not to make money. He did manage a living and spent his spare time to study and write and offer the same to Kannadigas. He lived as he thought. He got a good companion in Jyotsna. Such an adjustment among couples is indeed rare.
Krishnanad was a shy person. The phrase "fruit behind leaves" (Ele mareya Kayi- in Kannada) was born of such persons. Though he was thoroughly original in his writings, it was not his nature to strive for its publicity. He never talked about himself. After the friendship was established, he used to speak freely with wit and humor. He laughed at himself. To conceal the vastness of his learning and scholarship was also a trait of his humor! In the field of humor also this couple was made for each other.
To write more will only lead to a sad outburst.

--S.L. Bhyrappa.

See Also:
• More Pictures of Bhyrappa
• Bhyrappa and I
• Novelist S.L. Bhyrappa