Kamala Dongerkery and the Kasuti of Karnataka

Kamala S. Dongerkery who featured in a prior entry was a pioneer in reviving Kasuti the hand-embroidery of Dharwad like other innumerable handicrafts. Kamaladevi Chattopadhyaya was also instrumental in reviving Kasuti and colorful traditional embroidery. Here Kamala Dongerkery narrates, how Kasuti and Kamaladevi turned her into a writer.

The plight of the artisans and the extinction of handicrafts like embroidery caused me a great deal of concern. I was also taking some interest in the All India Women's Conference.
About this time, my esteemed friend, Kamaladevi Chattopadhyaya, was elected President of the All India Women's Conference. She persuaded me to undertake the work of the "Cultural Section" of the Conference as member-in-charge, and asked me to plan the section.
I suggested to her that we might take up the question of Indian embroideries. She welcomed the idea and asked me to plan out a program. Because of my interest in this craft I had made a small private collection of samples. I soon drew up a questionnaire and started collecting more material. My idea was to find out someone who would write a monograph on the subject. I actually approached one or two persons with a request to write. One of them even agreed, but her idea was to produce design books as a commercial proposition, while we desired to make it a cultural study and emphasize its importance in the cultural sphere.
I consulted Kamaladevi again, and sought her advice. She said I could not possibly put my ideas into someone else"s head, and asked me why I should not set about it myself. So I took all the material I had with me to Dr. G.S. Ghurye, Head of the Department of Sociology of Bombay University, to consult him if I could work upon it. He was happy and encouraged me to go ahead.
But for Kamaladevi's insistence, I would never, perhaps, have taken to writing, I think. She has been to me a source of inspiration, guidance and continued friendship. Her depth of thought, wide experience and insight into the intricate problems of Indian artists and artisans are unique. She has a vision and a sympathy that are un-equalled. In all these years of my association with her I have fund her deeply absorbed in reviving and improving all our lost or tottering, indigenous crafts. She has an un-rivalled knack of choosing her band of workers, and encouraging any one who has some little talent. Truly, it may be said that she has made the renaissance of Indian art and culture her mission in life and dedicated herself unselfishly to this work. It required an able and outstanding person like her to give a concrete shape to the idea of the cultural renaissance of India, advocated by the late Dr. Rabindranath Tagore. It can be said that Kamaladevi has achieved this object.
The next eighteen months were a welcome change for me to a new and fascinating sphere of activity. The collection of material in the shape of sample pieces, roaming about the museums, delving into books from the Bombay University Library and making my own observations proved so delightful a pastime that I began to think that the time spent on committees and knocking about for doing what is described as social welfare work was fruitless, compared to this type of activity which was definitely of greater value in the long run. My pent-up desire for study and work had found a congenial channel, and I slowly deviated from my early activities into wider and more interesting paths. Thus, my first book, "The Romance of Indian Embroidery", came to be written.

© K.L.Kamat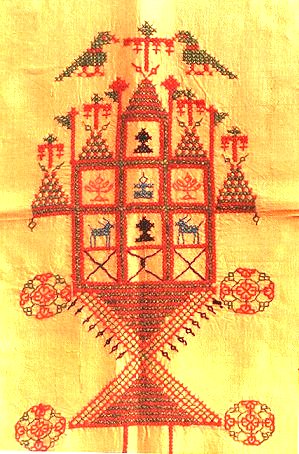 Temple on Wheels (Ratha)
Embroidery on Silk

Today Kasuti sarees have become pride of possession of fashionable ladies.

See Also:
• Embroidered Elephants
• Handicrafts of India
• Needle Crafts of India