M.J. Shuddhodana, a Master Artist of Karnataka

M.J. Shuddhodana (Feb. 2, 1914 to Sept. 30, 2002)

My service in All India Radio has been a blessing in certain ways and a loss in several things. Blessing because I could move places like Jaipur, Mysore, Calcutta, Mumbai, where veteran artistes and writers frequented AIR studios on invitation, and one could meet and talk to them, easily. But my transfer every three years disturbed my family life. I could spend very less time with my husband and only son Vikas. Nonetheless, my knowledge about literary and art world surpassed, making up the loss at family end. I could learn to communicate in respective languages of the region as well.

My stay in Mysore station (1983-1986) has been rich and fulfilling. I could interact with famous artists, musicians and litterateurs. Mysore at that time still boasted of several old masters in these fields, and I could easily visit their home studios, chat and could feast on the masterpieces, unsold or getting readied. Mr. M.J. Shuddhodana was such a rare, master painter who at once comes to mind, whenever I think of Mysore's artistic glory.

©



Autograph of
M.J. Shuddhodhana in 1985
©



Autograph of
A majestic lonely banyan tree
One day, soon after my taking charge as director of radio station, Mysore, a burly tall man came to my chamber and introduced himself as retired Vice-principal of Jayachamarajendra Technical Institute. I knew it was a prestigious art school which employed veteran masters and trained several prodigies who are established painters, sculptors and other artistes. Shuddhodana had come with a request to cover his one man-exhibition in the city to be held in the evening. Radio coverage of a visual festival has limited listening. Even then I promised to send a person to cover it and put out a short report. I had to go to Bangalore, that evening and missed the show.
However after some days, I called on the artist and requested him to allow me a look at his art collection. He readily agreed and was pleased. The time I spent with him at his home-studio was a lifetime experience.
Shuddhodana a Buddhist (for the history buffs -- Suddhodana was the name of the father of Buddha) excelled in painting Lord Buddha in various stages. A huge painting of the nirvana brought tears to my eyes. So touching was the passing scene of the Great Guru. Similarly he could depict the Banyan tree in several situations and colors. The painting of a great Banyan in glowing sunset colors entitled "On way to Nanjangud" is vividly sketched in my memory. Associated with Buddha this tree brought to mind several anecdotes of Buddhistic literature.
© K.L.Kamat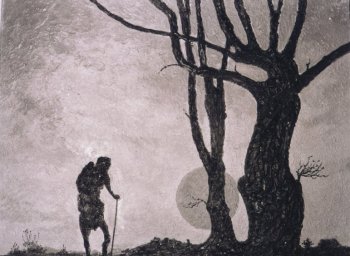 Way to Nanjanagudu
Painting by artist M.J. Shuddhodhana
As in landscapes, Shuddhodana excelled in portraiture. His portraiture of Kuvempu, the great Kannada writer in his late years, tells a new story of the musings behind that far-away-look.
Kuvempu in late years-Painting by M.J. Shuddhodhana
I could see a lasting philosophical message in his depictions of the Banyan tree. In Indian ethos, Aswathha and Banyan trees occupy venerated place. That tree in different vignettes was brought out effectively by Shuddhodana. A tree could be majestic, lonely, forelorn, cheerful, funny and helping just like an individual. Each of his painting of Banyan is a lesson in philosophy and shows a man"s small worth in the Universe effectively brought out in the form of that magnificent tree.

See also:
* Amrita Shergill
• Ravi Verma