Pandit Nehru and the Indian Sari

Jawaharlal Nehru (1879-1964) first Prime Minister of free India was a great connoisseur of beautiful things natural or man-made. Here are his impressions on the "Indian Sari" a book Kamala S. Dongerkery wrote.

I had a pleasant experience when I called on our Prime Minister, Pandit Jawaharlal Nehru, to present a copy of my book, The Indian Sari, to him. Panditji had inaugurated the Marathwada University in 1958. Later, at a dinner, I was introduced to him by Mr. G.V. Bedekar, then Divisional Commissioner of Aurangabad. He told Panditji that I was writing a book on the sari. I was least prepared for a volley of questions from Panditji, including one, whether the sari was a suitable dress for work-a-day life. I decided to present him with a copy of the book after it was published, with a request to pass it on to his daughter, Mrs. Indira Gandhi
© K.L.Kamat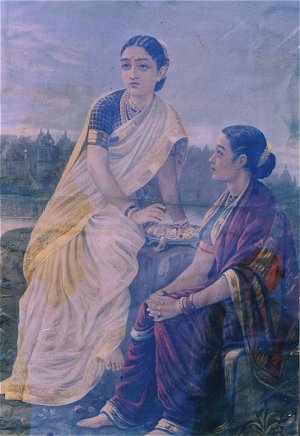 Women in Sarees
Painting by Raja Ravi Varma
Panditji gave me an appointment in his chamber in Parliament House when Parliament was in session. After the usual namaste, I told him the object of my visit which was to present my book to him, since he had shown so much interest in it when he had come to Aurangabad. He asked me to take my seat, and took the book from me. For nearly twenty minutes he was engrossed in it, and kept turning over page after page and looking at the contents attentively. I was in a dilemma, not desiring to waste his precious time, and, at the same time, hesitating to disturb him. Had he forgotten my presence there? What would he feel when he found that twenty minutes had gone by in looking at so small a thing? How did he find the book? Should I get up? Thoughts such as these crowded into my mind. I became terribly nervous. It was very trying. Suddenly, he rose from his seat and his face lit up: "A very interesting and fascinating book!" said he. I mentioned that it was a Government publication, and had been published by the All India Handicrafts Board. "Yes, I have seen all that," came his quick reply. In these twenty minutes he had gone through it from cover to cover. What an amazing man to be able to switch off his mind from the hurly-burly of Parliamentary debates to my paltry book with such grace and dignity, and to be engrossed in a subject so wide apart from his sphere of activity and to appreciate a small individual effort with such magnanimity!

On the wings of Time. An autobiography by Kamala S. Dongerkery.
See Also:
• Saree Sapne -- Celebrating the Indian Saree