Mantapa Prabhakar Upadhyaya

It was the month of August in the year 2001. The area around Sharavati river was lush green due to incessant rains. Kamat was leisurely wandering and clicking the scenes and places where he had tread as a kid. We were told that in the nearby village Kavalakki's Sanskrit Pathashala a Yakshagana was being enacted. Later news reached that only women played all the roles. Finally we were told that famous characters from Vyasa Mahabharata like Kunti, Draupadi etc are being played by a young talented male artist. Additional attraction was the presence of Shatavadhani Ganesh who would provide suitable commentary.

Kamat and myself hurriedly reached the spot.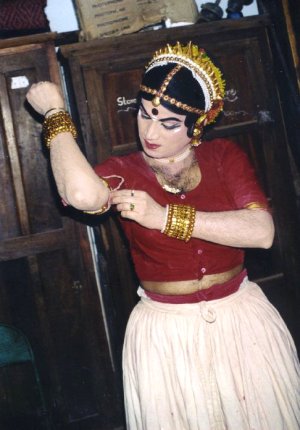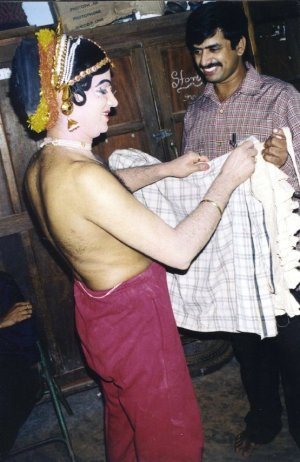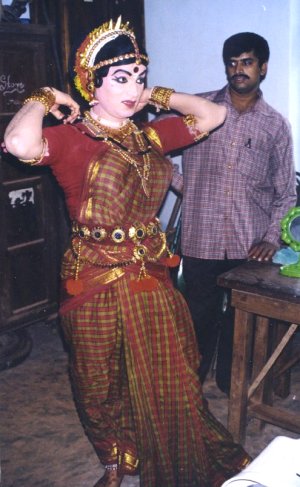 Mantapa- in the prosses of becoming Draupadi
It was too early a time for the show. Harikathe, Play or Yakshagana in mofussil areas start late, to enable the small businessmen, their families, shop owners etc who are real connoisseurs of popular art, to attend. Kamat gleefully took pictures of Prabhakara getting ready. These pictures became historical. Four months later, Kamat was no more.
After a decade now, Mantapa has created history. He has paved a new line in the strictly classical and traditional way of Yakshagana-dance-drama-by his mono acting roles. These are mainly famous female characters of Ramayana and Mahabharata. He had good training under renowned Yakshagana a Masters like Keremanes and Chittani. He occasionally did female roles with them as well.
Yakshagana is a all-male enacting form. Female characters come as secondary ones to heroes. Mantapa had special training in Bharatanatyam under Sundari Santanam who carries on the great dance style of Padma Subramanyam. Thus he had unique background of traditional and classical Indian dance format.
A chance meeting with Shatavadhani Ganesh and following experiments opened the way for his hidden talent. He started mono character-acting bringing in several nuances of a female's moods, in mythological garbs. He became a success.
© K.L.Kamat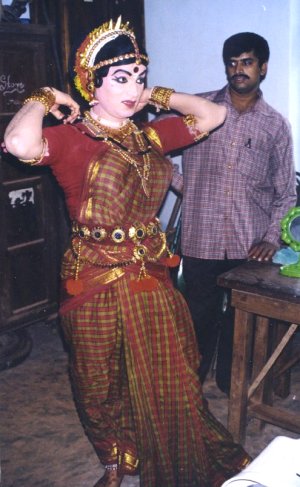 Performing Artits Mantap Prabhakar Updhyaya
Updhyaya getting ready for a performance, Village of Kavalakki, 2001
But this was his hobby. He opened an ice-cream parlour in Bangalore and was very successful in no time with his supportive wife Mangala. Ganesh helped him to bring to life lesser known but quite important mythological female characters. Prabhakar is matchless in giving depiction to emotions of anger, devotion, love, resentment etc. Thus Amba (self-esteem) Putana(dubious), Chitrangada ( a virago), Prabhavathi (overweening) are full of life and beaming in Prabhakara Upadhyaya. The inevitable Bhagavata and Yakshgana drums of Chende and Maddale along with flute etc at time make the ensemble. But it is Mantapa the character personified, who reigns the stage throughout.
Recently, one thousandth mono-acting show of Mantapa was arranged at Moodbidri (in South Kanara). It was given wide coverage in the media. The latent talent rightly presented in an organized way could be a thrilling experience. This highly talented, artist is fifty now. Though he has retained the slim build, lithe gait and good looks, age is deterrent factor and dancing being a rigorous artistic way is tiresome. The innovations these days are towards acting than dancing and Ganesh-Prabhakara duo have been creating new format.
Its wide acceptability is a matter of time.