Carpets

Carpets of various materials like jute, cotton and wool have formed part of human life since the ages. Earliest sample of a carpet was found in the Scythian burial ground of Central Asia dated 500 B.C. Naturally it must have been part of the royal essentials required for the dead in the other world. If the carpets in the West are mainly used to cover the floor for decorative purposes, in Eastern countries their utility is multipurpose. They are used for sleeping, seating, relaxing and praying. In short, carpets serve as furniture for eating and relaxing, for communities which are used to squatting.

With or without designs, woolen carpets were in vogue in India and their mention as kachilindaka is found in Buddhist literature. Kalin , garcha, galicha are the words of every day usage in North India.

Persia excels in the manufacture of carpets since the ancient times. Its first rug-type carpets reached Europe in the 13th century A.D.. In India credit goes to Mughal Emperor Akbar (1542-1605 CE) for introducing Persian carpets in India. They were of silk and wool. Soon "factories" came up in Agra, Delhi and Lahore which brought out carpets, modeled on those from Persia woven with geometrical patterns.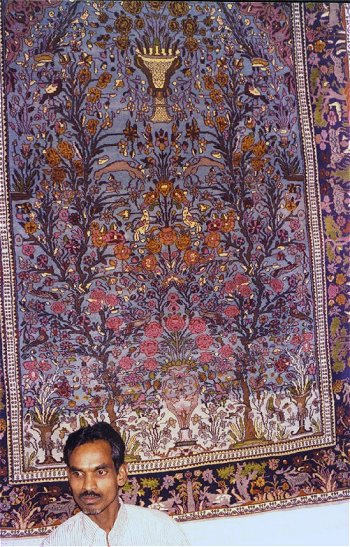 With royal patronage and ever increasing demand for the colorfully designed carpets, other states also encouraged carpet industry. Along with roses, lotus and local flower motifs made their entry. Floral designs, birds and animals appeared in the woven patterns.
Aubusson (European) patterns also became popular with entry of Europeans. Kashmiri, Mouri, Barjasta and Jaipur styles dominated carpet industry. Deccani weavers also brought in their indigenous motifs of animals and landscapes along with geometrical designs- akin to local milieu.
Sacred symbols like swastika lotus, purnakumbha Aswatha and other trees are also noticed in carpet designs.