Dr. Kittel and his Kannada Dictionary.

Reverend Ferdinand Kittel (1832-1903) initially a Christian missionary who came to India to convert the "heathens" into good Christians, fell in love with the Kannada language. He became a legend in Kannada literary world through his matchless service to that language and literature.

Born in a pious German family of Resterhaff (Resterhoven) (North Germany) on 7th April in 1832, Ferdinand Kittel had liking for languages and studied Hebrew, Greek and Latin at a very young age. He felt an "inner call" of Jesus Christ at a young age of 17, and went to Basel which trained missionaries who volunteered to go abroad and spread message of Jesus Christ. Basel Mission had opened centers at Mangalore and Dharwad in Karnataka in 1838 which catered to the needs of the missionaries in their itinerary efforts of conversions, which involved preaching and teaching. This required learning of the language of masses, writing books and opening schools. Kittel arrived in Dharwad in 1853.

Immediately he started learning Kannada language and spent the next thirty-nine years of his life, to revive, rejuvenate and immortalize that ancient language, through several works.

Kittel wrote books and articles about Kannada language and literature in English and German languages. He edited two ancient but very authoritative books, one on grammar, Shabdamanidarpana ("mirror of words") and another on prosody, Chhandombudhi("ocean of prosody") in Kannada. Both were in palm-leaf books till then. Seeing the dearth of poems in modern Kannada, he wrote them, which could be set to tune. He also wrote texts and translated history books from English into Kannada for school children. Over years, he wrote well-researched articles on as varied subjects as philosophy, religion, linguistics, prosody and also ran a journal. He even coined two thousand words in Kannada, which he thought could be helpful in day-today usage!

But his monumental work is the 1,758-paged Kannada-to-English dictionary (1894) considered unparalleled in any Indian language. Besides being lexicon, giving the meaning of words, it is a store-house of literary allusions, thesaurus, and a self-teaching Kannada Reader as well! Great researchers like B.L. Rice, R. Narasimhachar, D.L. Narasimhachar, have unanimously declared that Kittel is the greatest authority on Kannada language and literature. M. Govinda Pai the erudite scholar-poet, read the Kittel Dictionary as a book and has written remarks on hundreds of pages of his personal volume with his unique purple-inked pen. This volume, itself a museum piece, occupies place of pride in the museum of Udupi named after him.

Several books and articles have appeared about Kittel"s contribution. Two doctoral theses have enriched his life story and works. The latest book however is by Dr. Shrinivas Havnur who passed away recently (1928-2010). Brought out by Central Sahitya Academy, New Delhi, (2009), it gives a comprehensive picture of life and achievements of this rarest scholar, who reminds our ancient rishis in appearance and deed.

© K.L.Kamat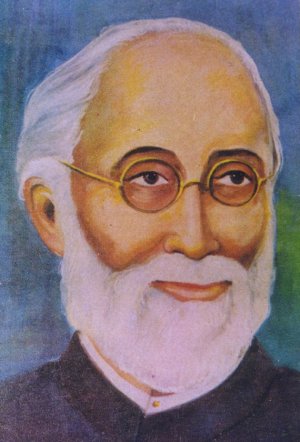 Portrait of Reverend F. Kittel
Kittel is remembered for compiling the first Kannada-to-English dictionary in 1894
This book is also a documentation of passion, Havanur nurtured for Kittel over forty years. He visited Kittel"s birthplace, dugout so far un-published rhymes and stories, Kittel wrote in Kannada and got them published. Kittel was honoured with honorary Doctorate by Teubingen University in 1896.
Kittel suffered from weak eye-sight. But this did not come in the way of his personally attending to proofs. Printing was still in the laborious elementary stage of lithography and most of his assistants had no basic training in printing. One can imagine the hard toil Kittel put to bring out the priceless gem of "Kittel Nighantu", which is called Kannada-English Dictionary.
Today I am the proud possessor of Kannada-English Dictionary of Kittel, a 1894 edition which my father handed over to me. I am also recipient of Kittel Award instituted in Dr. Reverend Kittel's memory by MICO, a German firm of Bangalore.
© K.L.Kamat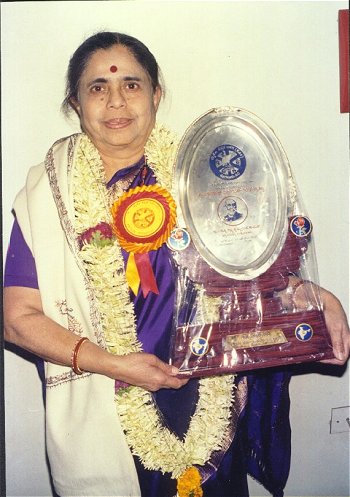 Jyotsna with the Rev. Kittel Award
Jyotsna was honored by the Kannada association of MICO for lifetime contribution to the Kannada language in 2001.
I studied, worked, and took up research in Dharwad, which was the work-place of Rev. Kittel for Several years. Kittel's Dharwad was nearer to my heart during all those 13 years.