R. G. Bhandarkar
Sir Ramakrishna Gopal Bhandarkar (1837-1925)
19th century is called an "Age of Renaissance" in India by several scholars. The country witnessed a spurt of reforms and revivalist movements, inspired by Raja Ram Mohan Roy (1772-1833). Region of Maharashtra along with Bengal saw leaders who brought in, socio-religious awakening through education and connected programs. R.G. Bhandarkar a distinguished Sanskrit scholar, orientalist and a social reformer left a tradition behind, as a torchbearer.
Dr. Bhandarkar was born in Malvan, a town in Ratnagiri district of Maharashtra in 1837. His father was clerk in Mamlatdar (taluka head)'s Office. With great difficulty, Ramakrishna completed his primary and secondary education and attended Elphinston College in Bombay. Later he completed Masters degree. His favorite subjects were Maths, History and English. Endowed with prodigious memory and sharp intellect, he established himself as a front-line researcher in Sanskrit in no time. He learnt Brahmi and Khoroshthi scripts and deciphered long forgotten inscriptions. He edited five volumes of Sanskrit inscriptions.
He started his teaching career as headmaster of a high-school in Hyderabad (Sindh) which formed part of Bombay presidency. Later he taught at Bombay and Pune colleges, and finally retired as Vice Chancellor of Bombay University.
© V.N.O'key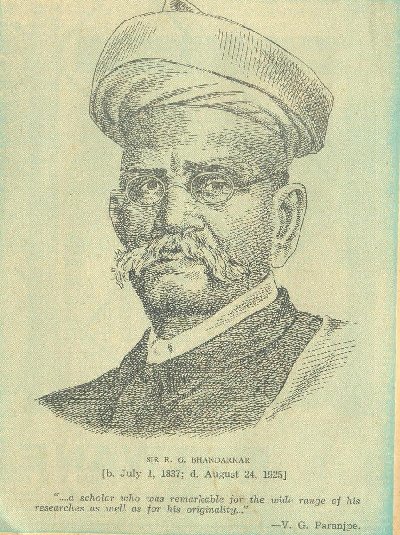 Ramakrishna Gopal Bhandarkar
R. G. Bhandarkar (born July 1, 1837; death August 24, 1925) was a was a scholar and social reformer. He worked to improve the status of Indian women.
Professor Bhandarkar was very well known figure in European Academic world and the British government sent him as its delegate to congress of Orientalists held at Vienna in 1886. His scholarly paper on Sanskrit manuscripts was highly appreciated by German scholars. Germany was leading in Indology in those days. Gottingen University conferred honorary Ph.D. and Bombay University a L.L.D on him. He was later knighted as well, and became "Sir" literally!
He continued research and writing along with teaching. He wrote Sanskrit grammar texts for school children and his books on Shaivism, vaishnavism and Early History of Deccan are as authoritative as when he wrote them. Four volumes of his writings (other than inscriptions) on language and literature were brought out. Bhandarkar Oriental Research Institute was founded by his admirers and students in 1917 at Pune. Dr. Bhandarkar donated four thousand rare volumes, his personal collection. Later BORI became a leading academy of research in Indian languages and literature.
As a social reformer also Dr. Bhandarkar excelled. He founded Prarthana Samaj with Justice Ranade and Atmaram Pandurang in 1867, whose aim was, abolition of the caste system, widow remarriage and education of women. Believing more in practice than preaching, he set an example, by arranging remarriage of his daughter, who was widowed at a very young age. This was strongly opposed by the leaders of his own community, the Saraswats. The complaint of this "irreverent and blasphemous act" was conveyed to their pontiff, heading the math at Khanapur (Belgaum). When the pontiff called for Dr. Bhandarkar's explanation, he put forth sound argument based on ancient scriptures and sastras that, there was no ban on widow remarriage at all, at any time! The critics were thus silenced. This bold step of Bhandarkar gave a good boost to widow-remarriage movement in Maharashtra and other regions as well.
Dr. Bhandarkar continued his academic and social service activities and was connected with many such institutions. He worked as Vice Chancellor of first Women"s University in India, founded by Maharshi Karve at Hingne (Pune). He died on Rishipanchami day August 24th 1925. Rishi-panchami is dedicated to the memory of Rishis or sage-scholars of the past whose revelations in mantras guided the people.
Dr. R.G. Bhandarkar was indeed a modern Rishi.