Sampling the First Indo-English Poetry (1870)

The introduction of English system brought in a big change in thinking and writing among Bengalis in mid-nineteenth century. Two Bengali families outshine in promotion of English language and literature thereafter. One is the distinguished family of the Tagores. Another is that of Dutts to which belonged illustrious Toru Dutt (1856-1877) who died very young.

Nilmony Dutt, a rich Zamindar, was the patriarch of Dutt family. Born in 1757, he was well-read, much respected and broadminded. Though an orthodox Hindu, he gave his house to Rev. William Carey father of Indian printing. His eldest son Rasamoy Chunder was closely associated with Raja Ram Mohan Roy, and later became a judge. Another son Govind Chunder was well known in British circles. A civil servant he was a familiar person in English and Bengali literary circles. He became a Christian along with his whole family, sailed to England and later was to establish himself as a good poet and as father of three budding poets who died very young, unfortunately.

The Dutt family Album is the first Indo-English anthology (1870). It included 187 poems by Govind Chunder, his two brothers, Hur Chunder, Girish Chunder and a cousin Oomesh Chunder. The purpose of publishing these poems was made clear jointly in the preface of the anthology itself. They ventured not because they thought their verse was good, but in the hope of their book being considered as a curiosity. Being natives of India, they admitted being "foreigners" to English language. Of different age group and walks of life, they still belonged to one family and perhaps wanted to bring forth a combined show. "Bad poetry is intolerable and mediocre poetry perhaps deserved harsher epithet" wrote they.

Dutt Family Ablum is considered a landmark as it is the first attempt to exhibit Indian Ethos to the western world, in the familiar English metrical style and format. According to T.O. Dunn contemporary critic, "the attempts in the Album to deal with variety of themes, metrical forms and dignity of style are everywhere pleasing".

"Caves of Elephanta" by Oomesh Chunder is a noteworthy poem. The rock-cut cave temples of 7th century near Mumbai were in a pitiable condition when the poet visited. Now they are partly restored and the place is a famous tourist center. "Wonder in Wilderness" was the poet's exclamation.

Caves of Elephanta

 The snails on Brahma's forehead crawl 
 The blind-worms dwell in Siva's eyes
 On Durga's cheek, the rain drops fall
 Or are they tears for days gone by?
 Each upstart stranger writes his name;
 Such the result of earthly toil,
 And such the end of human fame.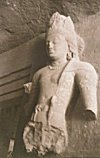 The Elephanta Caves

See Also:
• 19th Century India
• Banga-Darshana -- Encounters in West Bengal
• Elephanta Caves