Kadri Temple, the Melting Pot

India is often called the melting pot of several religious cults, religious beliefs (good and bad!) and mystic practices. There are some holy shrines in this land which speak of religious tolerance through ages. The temple and Matha in Kadri hills near the city of Mangalore provide a splendid example of belief of majority of Hindus that God Almighty is One but worshiped in different forms. Here symbols of Buddhism, ancient Natha traditions, Advaita (monism), idols of Sanatana dharma and traditional way exist along with images of local Bhuta-worship for which Tulunad or the region round about Mangalore is quite familiar with.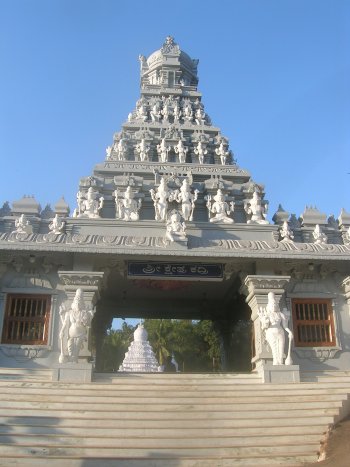 Manjunatha is the main deity of Kadri or Kadarika (in Sanskrit). Buddha, the great preceptor under went several changes through centuries. Finally the decay of Buddhism started, making way for reformed Sanatana Dharma or Hinduism. Buddha and his incarnation was absorbed in the ever-increasing pantheon. Manjushri, originally a Buddhist deity became Manjunatha. Shaivism was and still is, a strong religious force and Manjunatha. became one more manifestation of Shiva.
Meanwhile in mythology also, Buddha attained the most honored place of Hindu avatar or incarnation of God Vishnu! and remembered and worshiped daily by the pious Hindus.
Manjunatha of Kadari hills attained the new form, of Shiva slowly but steadily. A Sanskrit inscription in grantha characters on the pedestal of the bronze image of Lokeshwara (Ishwara or Shiva. Buddha's epithet is also Lokeshwara or Avalokiteshwara). This inscription is dated 968 C.E. and refers to Alupa King Kundavarman who built a Vihara at Kadarika. Buddhist Viharas were residential educational institutions in ancient times.
There are three images of Buddha in the location of Kadri Shrine. On the crown of the one idol is the relief figure of Buddha. It has three heads and 6 arms. Another bronze image of Buddha has figure of Garuda Vehicle of Lord Vishnu at the base! One idol among the three is known as Manjushri or Manjunatha. Thus Kadri temple which houses the idols, symbolizes transitional stage of Buddhistic deity being absorbed as Hindu deity!
The ancient matha in the Kadri premises is known as Jogi Matha. This was founded by a sage of Natha sampradaya or tradition. This advaita (monistic) form of Saivism declares Shiva as Adinatha or first Guru. Devotees of Natha tradition used to practice most difficult form of Yoga known as Hathayoga.
Natha tradition had its origin in East India and some say it is Nepal. Slowly it traveled south and got established firmly. Matsyendranatha and Gorakhnatha are the distinguished preceptors of this tradition. The quiet and beautiful area of Kadarika or Kadri with nine tanks of spring water and natural caves attracted the two spiritual gurus, for meditation and austere practices. The architecture of the temple resembles Nepali style as per experts. Some scholars opine that Natha cult is an offshoot of Mahayana Buddhism.
These two yogis or jogies are credited with spreading Natha tradition in South India. Their images also exist in Kadri temple.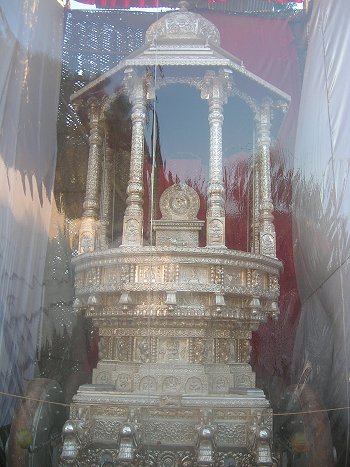 Besides these, are idols of Ganesha, Subrahmanya, Parvati and Shastar (local form of Shiva). The locally venerated Annappa, Panjurli of the Bhuta cult also are installed here.
The other world-famous shrine of Manjunatha exists at Dharmasthala in the same region. This Manjunatheswara is also a Shaiva deity. The head priest however is a Vaishnava and the head of the entire establishment is a Jaina. He is most popular and venerated leader Dr. Veerendra Heggade. Chronologically Kadri Manjunath is considered earlier to Dharmasthala shrine.
In the Jogi matha at Kadri the Natha Sampradaya is still alive symbolically. The Pontiff of the matha known as Jogi is in charge of the holy place and presides over all the rituals of the annual Rathotsava or the car festival held.
The devotees who worship different deities on other occasions do attend this great occasion and participate in the festivities, confirming the basis of Hindu belief that with all His numerous manifestations God Almighty is One.