K K Handiqui (1898-1982) and Indian Culture

It is often said that Sanskrit is a dead language. It could have been dead long back, but for the ceaseless efforts of sound scholars like Professor Krishna Kant Handiqui, who went on introducing rare and unknown Sanskrit classics to the English world in the early half of twentieth century. Sanskrit language is very much in vogue not in its classical from but in different format in all Indian languages till date. But the translation, edition and interpretation of several not so well known literary works, shastras treatises on contemporary religious texts or works of lesser known court poets, are yet to see light of the day.

Yasastilaka, a Jaina champu or prose+poetry romance of 10th century CE, enjoyed all India reputation for its encyclopedic coverage of Jainism, contemporary cults and religious practices, socio-religious life, philosophy, culture and political thought of the period. Professor Handiqui's 550-paged study; "Yasastilaka and Indian Culture" was published by Jaina Samskriti. Samrakshaka Sangha Sholapur (Maharashtra 1949). Dr. Krishna Kanta Handiqui had the Master"s degree of Calcutta and Oxford and was Vice-chancellor of Ganhati university, Assam. He established himself in the last century as a true representative of scholarship in Sanskrit language and its wide reach. Earlier he taught at Gujarat and for the study of Yasastilaka, he painstakingly obtained manuscripts from the states of Uttar Pradesh, Bihar, Maharashtra and Tamilnadu and brought to light a classic by a poet from Karnataka!

Somadeva Suri the author of Yasastilaka lived during the illustrious rule of Rashtrakuta king Krishna III (939-677 CE) of Karnataka and wrote this classic in the year 959 CE. He died at Koppal in the year 983 CE. The work deals with the infatuation of queen Amritamati for an ugly, dissipated and cruel mahout and which ultimately ends in the murder of her innocent king Yashodhar. Tenets of Jainism, expiation, rebirths etc., are discussed.

But I studied Handiqui's magnum opus for details of contemporary social life in Yasastilaka. The original work is in high flown, extremely difficult classical sanskrit with long, involved sentences full of double enteritis, and archaic allusions. But for Handiquis learned analysis, it would have been impossible to gather glimpses of society as seen and depicted by Somadeva Suri.

© V.Kamat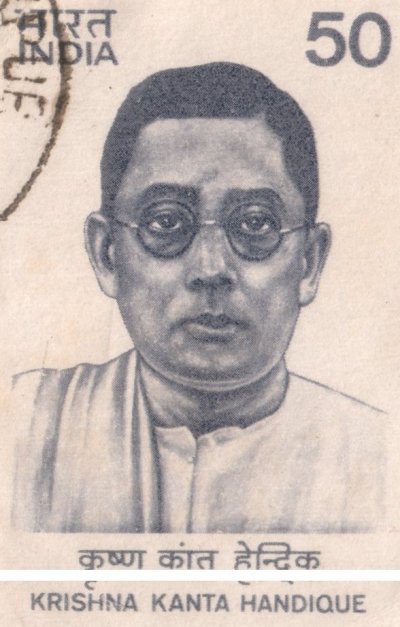 Krishna Kanta Handique (1898 -1982)
Handique edited Somadeva Suri's "Yashastilaka" Champu text of Rashtrakoota period
Thus, we find description of different battalions of Rashtrakuta army, several geographical names, of towns rivers mountains and caravans, mercantile activities, sports and part times. Dietetics feasts and festivals as also dress and ornaments find place in the work. Description of a dairy throws light on a cowherds" colony, which also catered to thirsty passers by with milk-products besides tending a huge numbers of cattle. There is also mention of huge mart (pentashana) where grocery, clothes, gems, medicines, food items and all petty other things like kumkum (bindi) and hingu (asafoetida) were sold, which amounted to all useful items for a comfortable living, including massage parlor and bath.
The mart extended for four miles. It included parking space for carts, bullocks, horses and camels which were transport force in ancient times. There was water and fodder facility. Strict security arrangements were made to prevent, theft pilfering and antisocial elements. Marts were both private and state-run. They brought in good revenue.
Indian Postal Department deserves kudos for issuing a stamp in remembrance of the unique scholar K.K. Handiqui.