A Poetic Work on the Theme of Tank

My historian friend Dr. Sudhamani of Mysore recently presented a short paper on poet Basava's Siddhalinga Kavya of 19th century which has central theme as construction of a magnificent tank.

Earlier I had written about this ancient (10th century) tank, the largest in Karnataka called Sulekere or the Courtesan's Tank in this column. Noticing my keen interest, Sudhamani sent me a copy of Siddhalinga Kavya (epic) brought out by Kuvempu Institute of Kannada Studies, Mysore. I am thankful to her.

Philanthropic deeds were undertaken by the rich and the ordinary in olden times. It was generally believed that merit (punya), and a place in heaven accrued if some charitable act helpful to the community was taken up. Tanks were constructed, plantations grown, wells dug, trees planted, watersheds and choultries built, for the welfare of humanity at large. Most of these acts remained anonymous except the ones constructed by kings and nobles who erected epigraphs to commemorate them.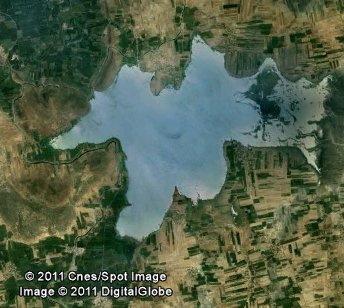 Satellite Image of Shantisagar (a.k.a. Sulekere)
As is common in Indian tradition, facts mingle with fiction and apotheosis results. Siddhalinga Kavya is no exception. Here a courtesan Shantavve who might have been rich enough to bear the enormous expenditure of the construction, of a huge tank is shown as a princess who is married to Siddhalinga, an incarnation of god Shiva. Her father king Vikrama (identified with Chalukya King Vikramaditya of 11th century CE), to gain merit, consults his son-in-law and ministers-in council on under taking a charitable act. All of them advised him to construct a big tank which will help human plant and the animal world forever. The king agrees to the assembly's decision.
The engineers spotted an area wherein flowed a river between two hills and to which two powerful currents joined after a distance. But it was already an inhabited place. However the entire population of the township shifted to the new location with all their belongings loaded on bullock carts, horses and mules. The wealthy courtesan is approached for funds which she donated willingly with only one condition, that the tank should be named after her.
The description involving the construction makes an interesting reading. Kamatis and Vaddars, the hardy laborers formed the main working force. They were nine thousand in number. Thirteen thousand carts brought stone and sand from Kadur and Sannur. He-buffalows were harnessed to bring special granite from Devagiri. Within a year, the tank was ready with sluice gates and diverted the river course after continuous work of carrying stones, bricks, digging, filling, plastering etc. Stone-pillars were lifted with the help of pulleys.
When the work was complete, rains came and the tank was full. There were festivities and the king honored the laborers with land and gold.
It is clearly mentioned in the kavya that the magnificent tank was named after the courtesan (sule) as per promise, though her name is mentioned as Mahibhadra in the kavya. Sule an honorific title for a Devadasi in 6th and 7th centuries CE. But this word was relegated to mean prostitute, more so in the 18th and 19th centuries when poet Basaveswara lived. It is no surprise that this fiction though glorifies an act of charity and there by that of God, denies the rightful place to the kind woman who enabled an engineering feat by her huge funding.
It however praises this woman for her austerities and penance and that God Siva blessed her. The word Sulekere became akin to purity personified and people hailed her (Sulekereyendamala namamam Kareyalke …. sannamam Karedaru)
(Siddhalinga Kavya XIV: 18)