Mohan Nadkarni(1922 - )

Amm's Column

Mohan Nadkarni(1922 - )

Mohan Nadkarni was born on 22 September 1922 at Karwar in a poor Chitrapur Saraswat family as youngest child of Dattatraya and Lalitabai Nadkarni. He was a brilliant student from schooldays and could graduate with Sanskrit as special subject in Arts. The Nadkarnis were a music loving family. His sister Bonni (my mother) played the Harmonium, sang and wrote essays and rhymes in Marathi. Another sister Manorama, composed poems in Marathi language. They were all born and brought up in Karwar, the beautiful Coastal town and district headquarters with which poet Rabindranath Tagore fell in love, when visited his brother Satyendranath Tagore who was District collector of Karwar. Tagore has written a pen-pecture of Karwar. Mohan was raised in this environment.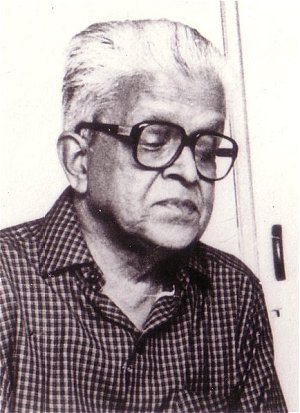 Mohan Nadkarni
After graduating from Wilson college in Mumbai Mohan took a job in the State Publity Department. Since early days he had flair for Music. Though he could not sing, he became a very famous music critic and musicologist. For 33 years he was music critic for Times of India group of Journals. He has written reviews of innumerable concerts and covered Sangeet sammelans.
Besides an authority on different Gharanas (traditional schools). He has interviewed great Maestros like Allauddin Khan (Sarod), Pandit Ravi Shankar (Sitar) and Vocalist like Bade Ghulam Ali Khan, Amir Khan, Gangubai Hangal and Bhimsen Joshi and more that 30 other artists.
His writings cover Marathi stage and devotional songs as also popular bhavgits. He speaks Sanskrit and reviewed Marathi and Sanskrit plays enacted at different places in Maharashtra. A regular broadcaster in English and Marathi, he served as member of auditions committees of AIR for several years.
The microscopic Chitapur Saraswat Community has brought out an Artistes Directory which is dedicated to Mohan Nadkarni. He has been honored by many musical sabhas.
www.kamat.com was enriched by Mohan's articles on contemporary Indian musical scene. He has also donated some old and rare photographs of the artistes and dignitaries to Kamats.
Mohan Nadkarni, 88, lives with his only son Devdutta at Auckland New-Zealand and still tries to keep contact with Indian Musical world. He has 5 books to his credit, including one on Bhimsen Joshi who passed away recently, on Kumaragandharwa.
Mohan's book "At the Centre" which includes biographical sketches of fifteen maestros of Madhya Pradesh is dedicated to the memory of my mother Bonni (1910-1943) whom he calls as "versatile and who instilled love of music in early child hood". M.V.Kamath, an editor, doyen among reporters and international correspondents has written a foreword to this book.
Mohan's friends and admirers call him a living legend because of his huge contribution in understanding and appreaciating of Indian music facettes. He has 1300 reviews, 809 articles and 125 profiles of different artistes and 3 books to his creadit. He has acted as a member of jury for various national level awards.