Indo-Arab Traits in Coastal Karnataka

Earlier, it was mentioned in this column that India is a melting pot since several religious sects, tribal traits, cults and local beliefs from different lands became merged with already existing practices. The Kadri temple was a splendid example of this 'melting pot'. Still more surprising is that, people of different races who came as invaders, marauders, sheer traders or proselytizing missionaries, took to liking the rituals, worshiping ways and deification that is part of Indian ethos. They became one with the regional ways though retaining some of their native ways over centuries.

Merchant classes as also petty trading communities from different far off lands were visiting Indian coasts since pre-histories times. When caste system was not so binding, they married Indian women, and mixed races came up speaking local language and following local customs. The Navayats of North Kanara are descendants of such Arab traders and their Indian spouses. Fair and good looking, they are by and large, a peace-loving community, who have over centuries lived in harmony, with other heterogeneous groups, for which the district is known.

© K.L.Kamat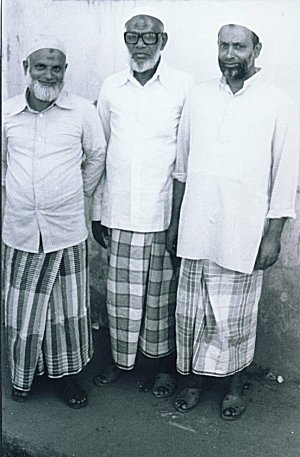 Muslim Elders
Notice their checkered "Maulana" lungis. Town of Bhatkal, 1983
Ibn Battuta, the globe-trotter, who visited Honavar region which had famous international sea-port at that time (1336-1346 CE) had seen Muslim girls attending school like of which he did not see anywhere. They were very beautiful and wore rings in their nose. Obviously they did not wear veil! Compared to other Muslims, they were more outgoing. Women still wear big nose-rings among Navayats.

Haseena of Herangaoli with a Nose rings-North Kanara dist.
Mapillas of Kerala, Byaris in South Kanara district of Karnataka, Darjis in Maharashtra and Gujarat, who are descendants of ancient Gulf residents and Indians have retained some of their ancient"s triads, but have adopted local language and customs. Some of them were master ship-builders. Those communities, whose services were utilized by local rulers, were availed later by the Portuguese as well.
My historian friend and class-mate Dr. K.G. Vasantha Madhava retired professor of history has thrown light on new sources.

Dr. K.G. Vasantha Madhava
The "Karkala Gommteshwara Charitre" a Kannada classic of 16th century CE refers to Arabia as Mlechhakhanda where Bharatesha had sway! In 1801, Jains of Tulunadu or Mangalore, told Buchanan the British officer, that there were numerous Jain families in Arabastan, but returned when some religious persecution started in olden times. Though there are no written records, traditional memories stay on, in ancient land like India. Tulu paddanas (folksongs) of Ali Bhuta, Panjurli and Bobbiriya speak of Arab settlements in South Kanara coast and their matrimonial relations. Arab scholar yaqubi remarked in 870 CE that the science of medicine was highly advanced in India. Honavar, Basrur, Barkur and Mangalore as also Gopattana or Goa were known to Arab geographers. Dimiqui (1325 CE) speaks of Honavar as a beautiful place of ten thousand villages. Trade took place in coir, black pepper and coconut.
Coir market still continues

Coir Market in Honavar