Baba Learns Bengali!

While rearranging old papers recently, I found an exercise book, in which Bengali words were copied. At once I could follow that it was Baba's effort at self-teaching of Bengali language.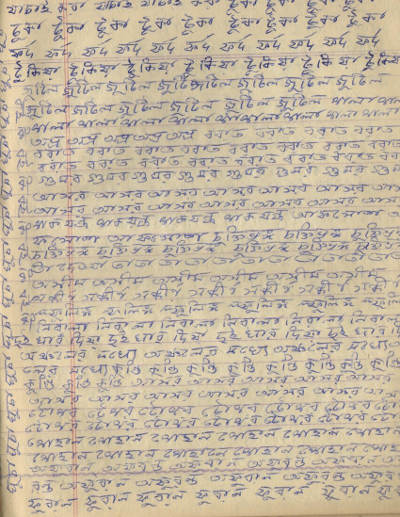 Picture of Scanned copy of the exercise sheet
Baba, my father, knew several languages. Most of them were result of self-study. When he was past seventy-five he visited my brother Prakash in Mumbai and came to know that lessons in Bengali were taught and examinations conducted in nearby locality.
With the help of his young friend Vivek Koppikar he not only joined the course midway but completed the course, appeared for the examination and came to Dharwad where he had temporarily settled. He copied Bengali words endlessly to improve his handwriting.
After a few months a congratulatory letter from his young grand daughter Aparna(10), was received that Baba passed in the Bengali class examination with good marks!
© K.L.Kamat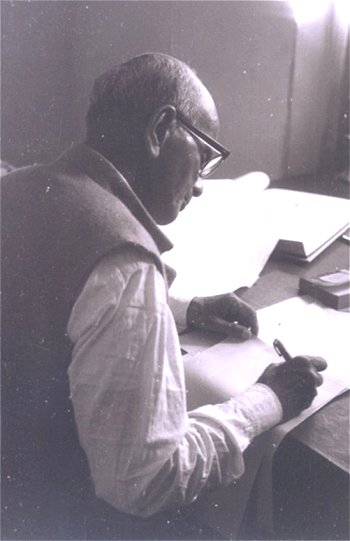 Old Man Attempts to Improve his Hand-writing
Using the back-side of a wall calendar, Ganesh Burde, 85, practices his Bengali
Baba continued his studies in Bengali. He got a Bengali-Dictionary from Calcutta and some of Tagore's books. Vivek remembers having read Gitanjali of Tagore in Baba's company.
Baba knew Konkani, Sanskrit, Marathi, Hindi, Kannada, and Urdu languages besides English in which he excelled.
He used to quote lines from Subhashit (Sanskrit epigrams) Gita and couplets from Ramayana when occasion rose. One beautiful phrase in Urdu, I still remember, which he quoted once during a morning walk,
"Shabnam ka Subha akar Phulonka muhn dhulana"
"Lo! The morning dew has appeared and washing the face of flowers"
See Also:
• Remembering Baba on his Birth Centennial