The Story of Gandhari

"There could be a bad son, but there can never be a bad mother!" uttered Shankaracharya. In short, he expressed that ideal Indian motherhood stood for self-sacrifice, compassion, affection and forgiveness which were personified in her. If intelligence, discretion maturity and farsightedness are also added to the list, Gandhari, the queen of Dhritarashtra and mother of Kouravas deserves the first place among women characters of Mahabharata, the great Indian epic.

Born as daughter of Subala the ruler of Gandhara, identified with present day Khandahar, region in Afghanistan which extended to part of North West Frontier province in modern Pakistan. She had to come all the way to from hilly, tough and difficult terrain, to rich and prosperous plains, the land of Kurus, to marry a very famous king of those times. But he was born blind. With firm mind and toughness of the rocky region of her land of birth, she decided to bind her eyes for life, to be a fitting companion to her husband. She gave birth to one hundred mighty sons known as Kouravas and a daughter.

© K.L.Kamat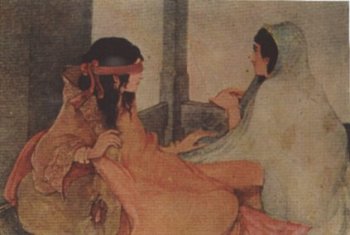 Blind folded Gandhari and a Maid on Balcony
by Nandalal Bose
Gandhari had watched with dismay the growing ill-will her first born son Duryodhana nourished towards his cousins the Pandavas and his brothers following suit. More than once she tried to intervene and correct her jealous and egoistic son, who otherwise was known for great valour and strong mind. She had rebuffed her husband for his blind love towards his sons. One or two events in the epic, which point to her strong character could be mentioned briefly.
When all efforts of elders failed to avoid the internecine war between Kouravas and Pandavas, Dhritarashtra asks Vidura to escort Gandhari to the court in a bid to coax her adamant son. He had great faith in her sagacity and wisdom. Gandhari arrives and listens to Dhritarashtra"s narration of Duryodhana"s arrogance and ego which could not be bent and that war seemed to be unavoidable. After musing a while, she declared that the kingdom could not be ruled by a man full of avarice. She blamed her husband for making their son the King, against her warning and this was the result of his foolishness! She felt sorry that her husband had no concern and affection towards his kinsmen (Pandavas). No King was seen, meting out such a differential treatment between two nearest relatives.
She sent for Duroyadhana. When he came she said, "My dear son, listen to my words. I only want your welfare. It is not easy to rule the great land of Kurus. One must be worthy of it, overcoming pride and avarice. You have not conquered self. How can you conquer your enemies? When you were born, there were several evil omens. But I ignored them, since I could not dream that a son born of me would ever think of sin. I was wrong. You seem to be heading towards a great calamity. You might be thinking that great warriors like Bhishma, Drona and Karna are on your side and you are sure to win. But they (Pandavas) have Krishna and Arjuna. Besides they have dharma on their side. "Where there is dharma there is victory (Yato dharmastato jayah)"
Gandhari further pleaded to her son to desist from war. But relentless Duryodhana, turned his face and walked away.
Gandhari was a visionary. Instead of leading cozy and comfortable life of a queen, she spent her life in austerities, even denying herself the seeing ability of a normal human being. Her foresight was extraordinary. The depth of her anguish at the loss of their entire dynasty except one infant, found expression in a curse that affected Lord Krishna's entire clan.