Limitations of Native Indian Education

The education of early times reflected the prejudices and predilections of the society. The individual student could not get the benefit of a diversified curriculum, because the goal was not to produce polymaths, but stereotypes to fit in the caste and class in which the boys were born. This imbalance was due to the exigencies of the caste system, according to P.V. Kane, the famous Indologist.

The priestly caste monopolized teaching, and lived on its learning. For the nobility, education in warfare and statecraft was imparted. The artisan class, in addition to literacy, got practical training, either at home, or under a master-craftsman. The noble architecture of the time bears witness to the meticulous care taken to train engineers and sculptors. That some members of the fourth caste (Shudras), could read, write, administer and fight showed that the exigencies of the time pushed up some in the social scale. The one great demerit was that education did not lead to social integration. One could not choose the type of education in keeping with one's aptitude. Hence society could not meet the challenges posed by new situations. But this type of education had its advantages for members of a social organization that remained state for a millennium. Everyone had an appointed place in it, and education conditioned his talents for filling that place. Cooperation and not competition was the basis of the social set-up, as seen in caste structure and guild autonomy. The problem of unemployment would scarcely pop up in such a climate.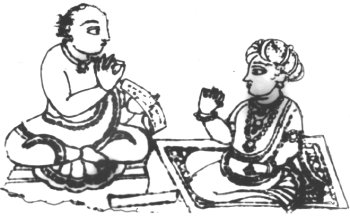 In keeping with the medieval society everywhere education was religion-oriented. Hierography bespeaks a sacerdotal order; convents, maqtabs shalas and tols have grown around churches, masijids and temples. All the modern universities of Europe have developed from church schools. The religious slant was intended to fit the students for a life of religion. Secular sciences like history, geography, economics and polities were of secondary importance. Vedas and sastras were given priority. Education became stereo-typed. The system remained static .very good literature mostly belles, letters was produced, but it did not seek new horizons.

See Also:
• Education in India through the ages