My Days in All India Radio IV
Early days in Akashvani Mysore
In the coming days with more and more of origination of programmes, the contact with intellectuals in Mysore increased, and everybody forgot about the protest march, soon. There was warm and close relation which I still cherish.
As luck would have it, the engineer who always objected to origination of programmes was transferred to a station in Maharashtra and the engineer who came in his place was a great sport and enthusiast. He loved music and always supportive of origination, inspite of the fact the programme and engineering sections suffered equally due to raw and untrained incumbents of AIR and LPT (Low Power Transmitter) Television.
Two noteworthy programmes of those days are to be mentioned here, which establish that dedicated men and not machines determine the effective working of a Radio Station. The first World Kannada Conference was organized at Mysore (1985). The small radio station had to cover the programmes of the great peagent for three days, from morning till late in the night. The work of coverage of programmes was distributed among all staff members, irrespective of their cadres. The programmes usually handled by the officers, were covered by the music artists, composers and a script writer, even by a driver! This was unprecedented, but everybody gave their best, for the cause of Kannada.
Great writers like Kuvempu, Shivarama Karanth, Prof. V.K. Gokak, Dr. R.S. Mugali and scores of others were present in Mysore and Rajiv Gandhi, then Prime Minister of India inaugurated the august three day cultural meet. (Pictures of Folk artists)
© All India Radio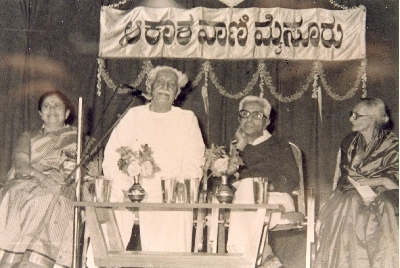 Golden Jubilee Celebration of Akashavani Mysore
(from L to R) Jyotsna Kamat, Kuvempu, A.N. Moorthy Rao, Kamala Gopalaswamy (wife of Prof. Gopalaswamy, and founder of Mysore Akashavani), March 1986
The year 1986 was highly memorable. It was golden jubilee year of the Mysore Akashvani, Fortunately for me, Kuvempu who had almost become a recluse, agreed to inaugurate it. It was all the more important because the first ever broadcast from AIR or Akashvani Mysore, in 1935-36 was by Kuvempu himself! He remembered how Prof. M.V. Gopalaswamy the founding father of broadcasting in Karnataka, approached him for live broadcast of a welcome poetic address. 50 years later the Poet was happy to listen to his famous song "O Nanna Chetana" performed by 40 youngster in chorus, after inaugurating. An orchestra programme by all veterans led by Late Dr. Doreswamy Iyengar was arranged. A Kailasam play was staged again by the old stage artists.
In the same year 'Viswabharti' a programme for youth, involving students of 22 countries studying in Mysore university campus was arranged. Now it seems as dream scene. Students from four African countries, young Tibetan lamas and students from Palestine were also invited. The last group danced and sang so rigorously that two planks of the wooden stage of the magnificent auditorium of Jaganmohan Palace broke!
I got published two books during my tenure. One was on poems welcoming New year Yugadi by poets of Mysore and another on Gandhiji as visualized by thinkers and writers involving late Raja Rao, Prof. A.N. Murthy Rao, Prof. U.R. Ananthamurthy, and the Gandhian scholars.
I was transferred to commercial Broadcasting wing of AIR Mumbai at the end of my three-year tenure (1986) disturbing my already truncated family life. But I left with sweet memories of challenging but rewarding days in Akashvani Mysore.