Man Who Wanted to Sell Taj Mahal!
Benevolent Bentinck who wanted to demolish Taj Mahal
Presently I am in Honnavar in connection with observing Kamat's birthday. A literary prize has been instituted at state level for the best travelogue in Kannada in Kamat's name, published during the year 2010. While going through old records and books, I came across a shocking but surprising event in the 19th century connected with one of the best Governors General or Viceroys who governed India on behalf of British monarch.
Lord William Bentinck (1827-1835) is familiar and much respected Viceroy who abolished the ghastly system of Sati, suppressed strong and infamous marauders and best remembered for introducing British system of education including English language which opened India to modern world. He supported Raja Ram Mohan Roy (1772 –1833) in latter's efforts of his social reforms. But few know that he was also responsible to lay down a proposal to demolish the precious Mughal monuments including the great Taj Mahal the marvel (in) marble for the sake of marbles! His honest effort was to only enrich the Royal treasury.
© Corel Professional Photo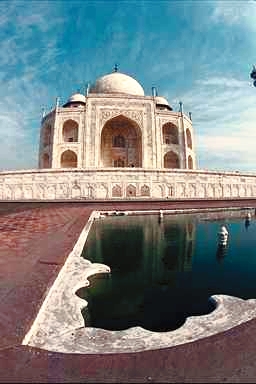 Side View of Taj Mahal, Agra

Fanny Park the famous painter and diarist who wrote the "Wonderings of the Pilgrim" in search of the picturesque, who earlier was featured in this column, has stated that the Taj Mahal was on sale, but the price offered has not been obtained. W. H. Sleeman also refers to the fact that the Viceroy was ready to pull down the great monument for a good price for its marbles from Europe or America.
To many of the British officers in India, Indian sculpture was creole, un-artistic and disproportionate. Some of the marble buildings of Shah Jahan's time round about Delhi, were wantonly destroyed for its marbles. Jami Masjid was about to be demolished but was spared to be used as a stable for the horses of the British army for three years!
It is shocking comment on one of the best British rulers of India. But when we remember that he accepted in toto Lord Macaulays Minutes on Indian Education and the latter's dislike for everything Indian, including art, architecture sculpture and other cultural aspect, Lord Bentinck's stand is justified. The sum offered was five hundred pounds for Taj marbles, and it was not accepted**. But due credit must also be given to following Viceroys, like Sir John Lawrence and Lord Curzon, who spared no pains, to preserve India's priceless monuments. Especially Lord Curzon's ordinance of 1906, on a blue board greets every tourist in India during the visit to any ancient monuments, even today. We have both sides of good and bad in the preservation of culture during British times.
**However he sold by auction the marble bath in Shah Jahan's Palace at Agra.