Contemporary Agrarian scene in Kabirís poetry

Contemporary agrarian scene in Kabir's poetry

It is known fact that India lacks in written historical documents. This is a big hindrance in reconstructing the authentic picture of the conditions prevailing in the contemporary region selected by a researcher. At times traditional sources of folk and traditional songs help but with popular work of saint-poet like Kabir, there are chances of interpolations. But some religious works compiles by holymen and recited regularly by the devotees, are reliable for dates and some aspect of socio-economic history. Professor Irfan Habib has quoted Kabir's verses preserved in Granth Saheb, in one of his articles on agrarian conditions prevailing in the sixteenth century C. E.

The verses are usually allegorical when saint-poets deal with God-man relation. One of the Kabir's poems refers to functioning of the revenue administration, recalling the revenue collector for the settlement of accounts. Of course it is allegorical, compared to death when a human recalled by the Creator, after the 'job' is over in the materialistic world.

© K.L.Kamat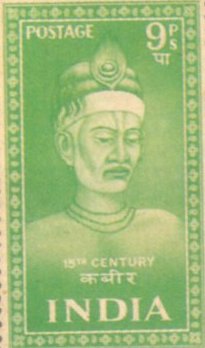 Saint Kabir, 15th Century
Detail from Indian Postage Stamp
"The amal (amaldar's the revenue collector job) has ended: the time has some to seize the collection (jam).
(They say) 'what have you gained? what lost?' Come immediately, the Diwan summons you!
The divine farman (order) of the Court has come. Submit the petition (ardas), that the village (gav) had some arrears. Take the final instalment (nibera) this night.
Whatever are the expenses of our visit (kharch) they are yours to bear!
Say your morning-prayers in the saria (inn) on your way before day-break."
These verses forcefully bring out the temporary nature of the tenures of revenue-officials, which was a special feature of medieval times, says Profession Habib. Other part dealing with transitoriness of human life, needs no comment.