Lalithamba on Social Mobility

Love of social history has sustained my life through thick and thin over years. I attend history conferences and historical lectures and events whenever possible. Young, up and coming scholars provide me latest information about archaeological findings and their own approach to age-old happenings in Karnataka history.

Dr. N.R. Lalithamba, Associate Professor, Department of Kannada, Government First Grade College, Vijayanagar, Bangalore is one scholar who has tried to interpret eleventh and twelfth century old inscription of Arasikere region in Karnataka with regard to social, economical, political and religious mobility in modern context. It is all the more important that she has not forgotten the trends in present day India of globalization, privatization and liberalization.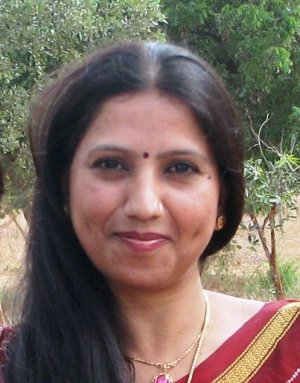 Portrait of Historian N.R. Lalithamba
Lalithamba has succeeded in bringing home the fact that old local organizations and self run and community-run institutions were far more successful in solving local problems, regarding water management, taxation, promotion of education, health, endowments and administration of commercial and religious establishments. The royalty or the central government remained non-interfering, unless specifically approached. Her book in Kannada, Madhya Kaleena Karnatakada Saamajika Sanchalana (Social Mobility in Medieval Karnanataka) is a highly readable book. I came to know Ms. Lalithamba in 2005 in the annual session of Karnataka Itihasa Academy held at Sedam (Gulbarga District). I was thrilled to learn that she had found out a new copper inscription regarding a grant of Hoysala King Viranarasimha (1220_35 C.E) to a temple school to teach Kannada at primary level. I had used the same details of the stone inscription of the Murundi village published in Epigraphic Carnatica earlier. This inscription records a land grant of the previous King Ballal II (1173 to_1220.CE). The particular temple-school has a glorious tradition of teaching children Kannada language for 800 years from 1174 to 1974CE. The format of teaching might have changed over centuries but the basic need of free primary schooling was full-filled in the same temple-premises till the old building collapsed and made way for new building with new mode of teaching! Dr. Lalithamba draws attention that the ratio of 20 students: one teacher was just fair and good. There was provision for free meals and a cook was engaged for the purpose during the period of study.
The micro and macro study of inscriptions has provided immense material to ever searchful eyes of Lalithamba who has arranged the information methodically in eight chapters with four appendices, with pictures and maps. She has also included eleven unpublished inscriptions discovered by her during the field work. List of books running into tweleve pages shows the depth of her study. The index is also helpful to locate places, individuals etc mentioned in the book. Dr. Lalithamba is a versatile lady. She is a singer, dancer, choreographer and a very good teacher. A bad accident left her immobile for more than two years. Though she recovered miraculously, she cannot dance any more, a punishment to a creative artist who could give lively shape to the superbly carved dance postures of maidens in stone of craftsmen of Hoysala times and their matchless imagination. Married to and engineer, she is mother of a lovely daughter Kavana (or poem in Kannada) who has a very sweet and melodious voice, who sang the welcome-song, Kannada version of 'Lead O Kindly Light'.
I was invited to preside over this book -release function arranged jointly by the author and publisher Dr. M. Byregowda. Dr. Gowda is also an academician researcher and publisher of unique fame with number of distinguish books to his credit. Dr. Chidananda Murthy a veteran researcher, epigraphist, philologist and thinker released Lalitamba's work on social mobility stating that such books based on doctorate thesis must be like a foreword to years of forthcoming research writing to any serious writer. He hailed the book as a unique contribution. Dr. P.V. Krishna Murthy a well-known epigraphist and editor of [(Itihasa Darshna)] mouthpiece of [(Itihasa Academy)] over years, brought out highlights of the book. Lalithamba gratefully remembered the full-hearted support of her in-laws, husband, father and several others in her research venture. It was a real pleasure to meet the intimate gathering of like minded scholars, researchers and lovers of history.
The Book: Madhyakaleena Karnatakada Saamajika Sanchalana.
By N.R. Lalitamba.
Published by M. Byregowda
Muddushri Granthamale, (2011)
Bengaluru-560104.