Karki Ramachandra Shastri Suri

(Karki Ramachandra Shastri Suri(1914-2009)

Some years ago, I had a rare opportunity to meet a great Sanskrit Scholar, who was spending his ripe old age at Kavalakki a small but culturally active village near Honavar, Kamat's town. I was quite keen to meet him. He was not only a highly respected scholar, trained in Gurukula or traditional educational center of higher learning but also a grand nephew of Karki Venkataramana Shastri Suri (1852-1892).

Venkataramana Shastri was a pioneer in reviving Kannada language, a social reformer and wrote the first modern Kannada travelogue as also a play in Kannada, "Iggappa Hegde Vivaha Prahasana". A trained Sanskritist, he qualified and self trained himself as a lawyer in English and worked for revival of Kannada. He was associated with other luminaries of Bombay (Modern Mumbai) by founding a press and bringing out books and journals in Kannada.

Hence I was excited to meet the famous scholar, and a descendant of the illustrious Karki family of Shastri-Suri's. The title Shastri denotes the qualification of the one who acquires mastery in Shastras or treatises on ancient lore including science.

Suri is the highest title bestowed by the king or assembly of pundits on a person who is master of many branches of Sanskrit learning. It is a rare privilege to have two titles and Karki family owned the double title for generations, mastering traditional learning. Karki, a suburban area of Honnavar nowadays boasts of a Railway station for the entire taluka and a hub of business activities. In olden times it was also a famous centre of ancient learning. A Gurukula was established more than two hundred years ago, by Venkataramana Shastri Suri's ancestors. A center of traditional learning in Vedic lore, Shastras, Kavyas (literature), Astrology, Mathematics in addition to a Purohits (priests) training of conducting all rituals at temples and householder's life. The Gurukula attracted students from all over the region of Karnataka and Maharashtra.

© K.L.Kamat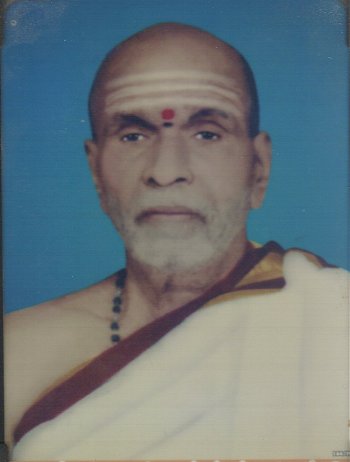 Scholar Ramachandra Shastri Suri
Village of Karki, Uttara Kannada
I was introduced to Vidwan Ramachandra Shastri Suri who at the ripe age of 93 looked like a personification of ancient learning. Fair complexioned, bright eyed, prominently displaying bhasma (sacred ashes) and tilak, he had sage-like appearance. Bent with age, his tall figure, claimed majestic look. A little short of hearing, he could grasp my queries quickly and replied promptly. He seemed happy to talk about his education, learning and teaching for more than 70 years!
In the family Gurukula there used to be 70 students. Tuition was free as also dormitories. The students had to arrange for their food "varanna" [feeding on weekly basis] system was in vogue wherein, each house-holder of the locality fed a student once a week by turn. Some students lived by begging grains and managed self–cooking. This charity (begging!) was never looked down upon. Known as "madhukari" (literal meaning involving honey!) it helped the poorest to acquire knowledge. Madhukari in ancient times was recommended to princes as well because it taught humility, equality and forbearance.
I asked about his student time in Gurukul. "The study period for specialization lasted for each branch a minimum period of seven years and extended for Nyaya (Law; Smrit) and Vedanta. For priesthood it took from five to seven years as well.
There were students from far off places like Pune, Satara and Bagalkot. He himself went to Sanskrita Mahavidyalaya at Dharwad for specialization of (Vedanta) under Virupaksha Shastri an authority on the subject at the time. During his Dharwad days, he too lived by madhukari, which consisted of millet bread and vegetables. By birth he was used to rice only. He had taste of the jail life also when he was arrested along with two of his friends who were freedom fighters. He was released later as no incriminating evidence came forth.
He took-up teaching in Karki Gurukul when students numbered to about 200 in 1930's.
Later he went to Mysore and taught in a Sanskrit pathashala of the palace of Maharaja of Mysore to his last, he was referred to as 'Mysore Sahstri'. He received four Gold Medals and a Kadaga (Thick gold bracelet) at the hands of the Maharaja which he distributed among his four sons, later.
He taught Vedanta to present pontiffs of Ramachandrapura and Sonde Mathas who are today sound scholars, orators and conformed educationists and environmentalists.