Cloud Messenger – Meghdut

Lyric poetry took shape in India since the dawn of civilization as is evident from Vedic hymns and poems. Different metres took shape over centuries and classical Sanskrit literature provides fine examples of lyrics. Kalidasa, the greatest Indian poet excelled in lyrical poetry and even his plays have that lyrical quality.

© K.L.Kamat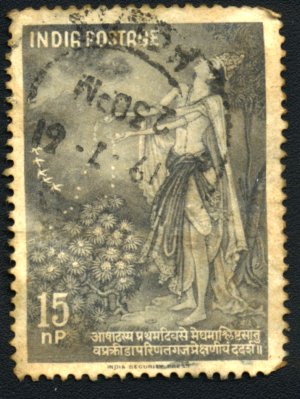 Megha-Doot, the Cloud Messenger
Detail from an Indian Postage Stamp
Cloud Messenger or Meghdut consists of 115 stanzas composed in the Mandakrantha metre, of four lines of seventeen syllables. The theme of Meghaduta is the message of a love-lorn Yaksha which he wants to send to his wife living far away.
Once a Yaksha, attending on Kubera, the god of wealth, was found neglecting his duties and incurred the wrath of his master. As punishment, he was banished to the sloping mountain of Ramagiri in present Madhya Pradesh. This Yaksha led a lonely and emaciated life. The rainy season approached and with it, dark moving clouds.
The sight of clouds made the Yaksha sadder still, missing his wife all the more. He thinks of sending a message, through a cloud, moving northwards towards Himalayas, where his wife lived. He addresses a huge dark cloud.
The first half of Meghdut, consists of the description of the regions the cloud has to traverse. He advises the cloud messenger to rest on the peaks of Mount Amrakuta, after quenching the forest-fire through his showers. River Narmada, mount Vindhyas, town of Vidisha and the stream of Vetravati as also the city of Ujjayini are mentioned. This appears to be the most familiar region of the poet.
Then the cloud is directed to Avanti, sacred place of Kurukshetra, of the Ganga and the mountain from which she descended. Further north appear the snow fields, till the Mount Kailas, where the beautiful place Alaka exists of where the Yaksha's beloved lives.
© K.L.Kamat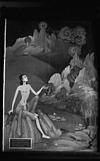 Yaksha of Kalidasa's megha-dhuta speaking to a clouds

In the second half, of the Kavya (lyric), the scenes of Alaka are described, as also Yaksha's own residence. His wife's beauty, her surroundings, mental and physical conditions are described. The Yaksha imagines her emaciated body, sleepless nights and viewing through the window, the endless sky. When finally she is able to catch the huge dark cloud, it should deliver her the message that her husband is still alive and ever longing to see her.
The Yaksha always saw her hidden in the different aspects of nature, which are vividly described.
In creepers I discern thy from, in eyes of startled fawns thy glances,
In the moon, thy lovely face, in peacock's plumes thy shining tresses;
The sportive frown upon thy brow, in flowing water's tiny ripples;
But never in one place combined can I, alas! Behold thy likness.

The Yaksha advises (through the cloud) his beloved, to be courageous. One day, the sorrow will end and they would surely be re-united.

Then he begs the cloud to return back, after successfully delivering his message, with reassuring news. Finally the exiled lover bids the messenger farewell, with the hope that he may never, for a moment, be separated from his spouse the lightening!
Poet Ambikatanayadatta (D.R. Bendre) has translated Meghaduta in Kannada. Some feel that it is as lyrical and emotion filled, as the original immortal love lyric.
See Also:
• Kamat's Clouds