Symbiosis
Subhashita of  Symbiosis
Subhashita is an epigram in Sanskrit. A two or four lined verse conveying a thought is Subhashita. It is a good (su), saying (bhashita) conveying a comment on weirdness of human behavior, poetic imagery or an instance of close observation. Full of worldly wisdom it contains a moral as well. 
A subhashita on interdependence of nature is pithily conveyed in a Sanskrit verse thus: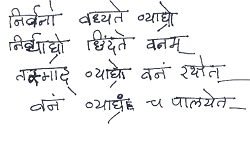 A tiger without the protection of the forest is killed
A forest without  the protection of the tiger is destroyed.
Hence the tiger should guard the forest, and forest must guard the tiger.