Don't Scorn Dung!
Don't Scorn the Dung!
Recently we were holidaying on the Mackinac Island of Huron-Michigan lake. This beautiful island is kept eco-friendly and clean by banning all types of automobiles. Bicycles and horse carriages are the only mode of transport. The roads on the island are constantly littered with the dung of the horses which pull the carriages incessantly. The roads are swept now and then, but the atmosphere in the tourist hot-spots is full of horse-dung smell.
This dung-smell brings one close to the nature in some indescribable ways. It reminded me of yet another experience with smell in unfrequented areas. I was once trekking in the Bandipur National Forest of India that is frequented by the elephants. Chinnappa, the forest officer who accompanied me was able to distinguish the tracks covered by the wild elephants and those covered by the domesticated elephants by smelling the mounds of elephant dung! Befitting their lofty stature, the dung quantum deposited by the elephants is also huge.
"Ma'am, please try this smell! This Gajaraja (elephant king) is certainly choosy about his food!" -- Chinnappa exclaimed. I have no qualms about cattle-dung with which I was quite familiar of domestic use, but elephant dung?! Hesitantly I sniffed. Lo! it smelled of medical herbs! The smell was the same one we experience in a native Vaidyashala (traditional Indian pharmacies), where Ayurvedic medicines are prepared. No doubt that the elephant had chewed plants of medicinal quality in the forest.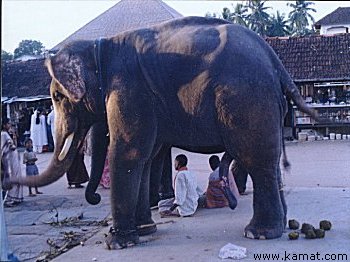 As we returned to the village, a couple of women were waiting for the trained elephants to pass. They were not to be disappointed! Two big pachyderms obliged them with forty to sixty pounds of dung which was very rich in fiber! Elephants eat lot of bamboos and fibrous plants. Their manure makes a very good fuel. Wood-cutting being prohibited, mounds of elephant excrement help poor villagers as a means of essential fuel.
What about the human excreta, perhaps the most foul smelling thing on earth?! We see that Indians, from ancient times earmarked parts of the fields as toilets, enriching the soil. The process of making fertilizers by covering the dung with earth and grass is described in Hindu codes of conduct (smritis). It is a well known fact that the dung of birds, animals and humans yields good crops.
See Also:
• Grass is Always Greener Over the Septic Tank by Erma Bomeck
• The Indian Elephants - Table of Contents
• Search for pictures of Elephants at Kamat's Potpourri