Gandhi and Women

On the occasion of Gandhi's birthday, Life Positive Magazine asked me some questions on Gandhi and the Status of Women.

Can you throw light on Gandhi's views on the status of women in India?

Gandhi felt that Indian method of bringing up girls was faulty. He said that a shielded life made a girl feel helpless by the time she grew into woman. He believed that a woman within her had sufficient strength to guard herself. Considering Indian ethos a hundred and fifty years ago which Gandhiji witnessed, he sounds modern, and a protagonist of women's rights! Women, half of humanity "were nobler, embodiment of sacrifice, silent suffering, humility, faith and knowledge." From student days till his end, he believed in woman's perfect equality of man. Complete independence (Poorn Swaraj) meant equality of men and women in all walks of life. Names he gave to his followers such as Sitaram or Radhakrisha had special significance with women's name coming first. He firmly believed a woman's intuition has proved truer than man's arrogant assumption of superior knowledge. He himself "fitted specially to serve womankind."

What is Gandhi's contribution to eradication of child marriages, prostitution, and Sati in India?

Gandhiji vehemently opposed the evil custom of child marriage. He himself was a victim, being married at the age of thirteen. He believed in marriage between grown-ups or healthy educated partners which contributed to make a strong nation. He condemned prostitution as shame of the nation. That was the time when prostitution was forced due to caste system (prostitute's daughter had to become one). He met in person the unfortunate women of this class during his all India tour for collecting money for Tilak Swaraj fund in the South (Kakinada) and the East (Barisal). He was touched to the core to see their plight. Some were ready to give up their profession (after willingly contributing to the fund) and work as congress volunteers. Gandhi advised them to take up spinning and weaving and their daughters to lead a celibate life. The measures were austere and impractical, but there are instances of reformed girls in Gandhian institutions of the time, who were earlier forced into prostitution.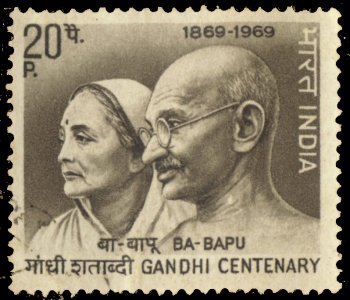 What are your views on Gandhi's attitude towards his wife?
Kasturba was a woman of rare grit and profound understanding. To be a soul mate of powerful (spiritually) personality was nothing but hard penance. Though harsh in earlier years, as he admitted in his autobiography, Gandhiji became aware of Ba's inner strength later. She was never a temptress and she had no objection to practice celibacy at an early age. In fact, it was extremely difficult for him even in mid-fifties. Ba equaled, and later excelled him in this super-human trait. "She has been a tower of strength to me in my self-imposed vow of brahmacharya (celibacy)." He had unstinted praise for his wife's mental strength. He has devoted full chapter on her courage in his autobiography and several references elsewhere appreciating this extraordinary trait It is difficult to agree with Gandhiji's views on birth control. For him, spiritual upliftment was most important. He admitted that celibate life was an ideal, difficult to practice.
Complete interview will appear in this month's issue.
Life Positive, Magus Media Pvt. Ltd.
http://www.lifepositive.com