Helping Hands
Helping Hands
Those not familiar with the caste-system, which is connected with the hereditary professions, are appalled by the prevalence of child-labor in India. The western media while exposing the "large scale exploitation of children in India", does not make exceptions to accommodate the age-old traditions.
The children of artists, craftsmen, and other professions in earlier times were trained by their parents and elders of the family in their vocations such as weaving, dyeing, painting, carpentry, and agriculture. The children grew up lending a helping hand to elders in their home-industries. The practice more of less continues till today. At times, such kids lack formal schooling, but working and specializing in some craft helped them build a career. Here are a couple of pictures taken by my husband that show children pitching in with errands. Our son, Vikas worked in our family shop since he was nine years old, and years later, he still feels such job training enriched his life and education.
© K. L. Kamat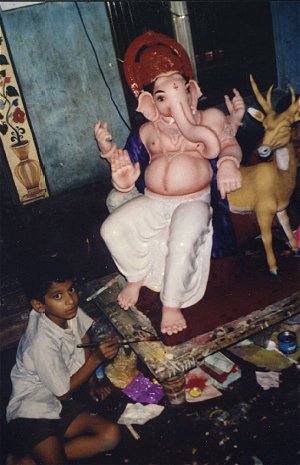 A young boy helping in making of Ganapati idol
Exploitation of Children?
Indeed, the poverty in India forces many parents to send their children to earn extra money. The employers who hire such children pay them paltry wages. Many a times, the parents themselves hire their children, so the question of paying the kids does not arise.
Young girls act as flower sellers and help in garland-making, while one can see boys act as vegetable vendors throughout India. Children of construction workers help in bringing water, cleaning vessels or collecting twigs for fuel. Their parents are compelled to come to cities when monsoon fails and they cannot cultivate their lands.
© K. L. Kamat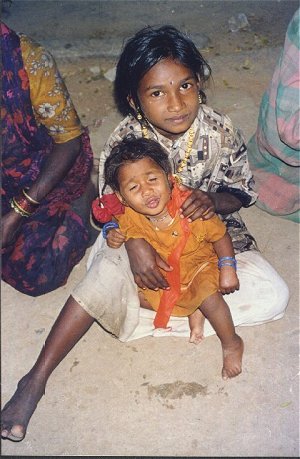 The children of the poor raise their siblings when the parents are away at work
© K. L. Kamat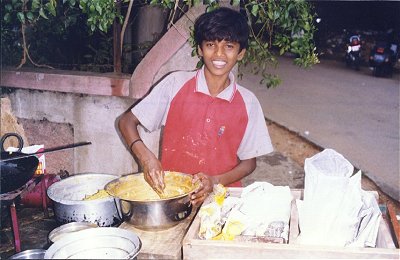 At a roadside eatery a kid-cook prepares pakoras in the evening.
After learning tricks of trade he will have a small eatery of his own one day.
If only all such children could have some schooling after such jobs which are part-time, they could have better training in self-reliance, courage, discretion and responsible citizenship. Such practical schooling is not forthcoming. Only some metro cities like Mumbai (Bombay) have night schools, which working kids can attend.
See Also: