The Story of Manu
The Story of Manu
According to the Indian tradition, the whole of mankind are Manu's children.
Manu was great saint of very ancient times and spent all his time in meditation, spiritual practices, and penance.
One day, he was tilling his kamandalu (hollow gourd) with water from the river, after offering prayers to Sun god. A small fish got trapped in the container. Manu was about to throw it back, when the fish spoke to him in human voice. "Oh Holy Sage! Do not give me away to the river, the big fish will devour me. Please rear me in your ashram, and when I am big, leave me in the sea. I will prove my worth and gratitude to you". Manu was amused. Being a compassionate man, he did as the fish had requested.
Later, there were incessant rains, which were followed by a huge storm. The entire area was submerged in water, and no land could be seen anywhere. Manu sat in a little boat and was lost in meditation. When he opened his eyes, he saw a big fish with a horn which told him to tie the boat to its horn. Manu recognized the fish he had reared and did accordingly. The fish swam  great lengths to greater heights, and reached a dry area in the mountains. It left Manu there and disappeared.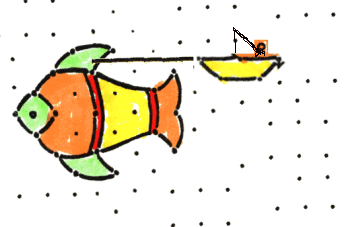 Manu thought that his first duty was to thank God by offering prayers. Through his yogic powers, he created a fire, ghee and other requirements for a sacrifice to Lord Brahma, the creator. The water receded, flora and fauna appeared one by one. Finally, a female figure appeared/ Manu called Ila (the "Earth") and bestowed special powers of procreation. Soon she was able to bring forth human beings on the earth, thus came forth Men and Women, all deemed as Manu's children.
It is indeed interesting that the story of a huge deluge finds expression in surviving memory of the oldest civilizations.  Noah's ark of Old Testament refers to the deluge and survival of living beings. The name Manu itself closely resembles the name "Man", and Manu's descendents are commonly referred to as the manavas (mankind).