Great Grand Guru of Gokarn
Gourish Kaikini - Great Grand Guru of Gokarn
Dr. Gourish Kaikini, doyen among intellectuals and writers of Kannada world passed away at Gokarn North Kanara on 14th Nov, 2002. He was 91.
Denied of venues of higher education due to scanty means and ill health in early years Gourish was confined to his small native town of Gokarn for life time. He was compelled to take to teaching profession but grew to be a great guru for several generations of poets, writers and intellectuals of the land. A self taught sage, he was a poet, a playwright, an aesthetic translator, a journalist, a researcher, a musicologist and a linguist, but wit and humor was his forte. He was very versatile writer; he wrote musical features and operas for small school children, books on psychology, biology, and philosophy. He has written an excellent analytical work on "Love".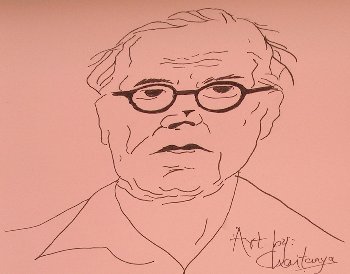 Gourish Kaikini
He was a pioneer in interpreting western philosophy and science to the Kannada reader. Over decades he wrote columns in Janasevak a weekly of Ankola run by equally great poet, social worker, educationist and politician Dinakar Desai. In fact, Gourish turned out to be a very popular interpreter of current political and social events through his columns. He made no money of his serious writings, and recognitions also came very late in the form of an honorary doctorate and a Rajyotsava award.
His scholarly works are compiled and brought out in ten volumes by Vishnu Nayak of Raghavendra Prakashan Ambarkodla of Ankola, which is a great tribute to Gourishmam. An annual literary award was instituted in Dr. Gourish Kaikini's name to outstanding writer of North Kanara District every year. My late husband, Krishnanand Kamat was early recipient of this award. No doubt, the whole district mourned the death of the great guru who was a living landmark for more than six decades personifying essence of Indian learning in the ancient place of Gokarn.
See Also: