Idolatry and Freedom of Worship
Idolatry and Freedom of Faith in Hinduism
The Hindu custom of worshipping myriad of gods and their symbols appears very strange to followers of other faiths.  Especially non-Hindus those who dwell deep into Hindu philosophy are shocked to learn the Adwaita (or monism) school of philosophy, which stresses on one formless God and the realization of the individual self with this God, appears contrary to what most Hindus practice.
Perhaps the concept of  self-realization is very difficult for common people to comprehend, and the great Hindu sages over the centuries took the pragmatic approach of tangible divinity. They taught that even though God is one, His aspects are many. Thus multiple forms of Lord Shiva, Lord Vishnu, and Mother Goddess came to be worshipped by the devotees.
The sublime idea that "God is what you perceive" (bhav taso dev) has given complete freedom of worship to the Hindus. Lord Krishna, who revealed the highest spiritual knowledge, is also the romantic hero and a great pursuer of women. He is also a child prodigy, and a punisher of the evil. This freedom of individual worship led to creation of colorful mythology and innumerable forms of God. Worshipping their favorite deity or family deity (kuladevata) does not deter most Hindus from paying homage to different deities at different temples. Most devotees are aware of the underlying philosophy that God is one. They would just like to worship Him/Her in the manifestation most familiar to them.
The idol of the deity is only a symbol. It is believed that idolatry helps to remember God-Almighty all the time. The medium of reaching God can me material (puja), verbal (singing or chanting), or mental (meditation or devotion). It is believed that they can be carried out singularly, in combination, or in congregation.
A well known verse in Sanskrit says:
Worshipping the idol is the first step
Repeating the holy name and glorification (japa and stotra) are better
Still better is the meditation (dhyana)
The highest state for an individual is to realize "I am He!" (söham)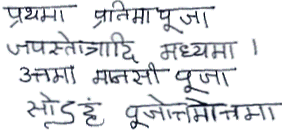 See Also: