Dayanand Saraswati
Dayanand Saraswati (1824-1883)
Swami Dayanand Saraswati's life and mission form a glorious chapter in the reformation of Hindu religious movement in the the 19th century.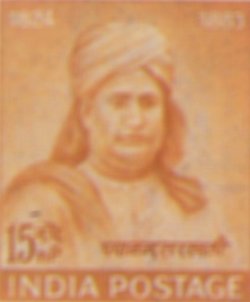 Dayanand Saraswati -- Detail from a 1962 postal stamp
Known as the founder of Arya Samaj, Dayanand Saraswatiji  reminded his countrymen of the egalitarian approach of the Vedas. He said that the smrutis and puranas misled people into such practices as untouchability, and exploitation of women. He was primarily responsible for reviving the ancient  Indian educational system of gurukula, where students from different strata of the society studied together under one guru without class, or caste discrimination.
Saraswati forcefully argued that there was no untouchability in the vedic times and a panchama (the fifth caste) is a much later, imaginary creation. All Aryans were equal, and had to undergo disciplines or samkaras as laid down in the shrutis, like upanayana, which was essential for women also. He propagated these reforms at a time when not even 2% of women in India were educated, and most of North India practiced the purdah (veil) system.
Dayanand Saraswati's greatest measure was to convert people from so called lower castes and non-Hindu religions into the Vedic religion. A purification (shuddhi) ceremony was performed in the presence of enlightened leaders and a congregation (samaj) and the person became an Arya! The person had to take a solemn oath to honor the Vedic values.
This simple, but authoritative -- for Hindus vedas are the highest authority, being known as the shruti or oral revelations; the smrutis or written codes are always of secondary importance -- mode of conversion attracted many Christians, and Muslims whose roots were in Hindu tradition. Many opted to come back to their former religion - incurring the wrath of Christian missionaries and Muslim clergy. It also annoyed Hindu conservatives, who did not want mlechhas into "pure" Hindu fold. So Dayanand Saraswatiji had to face opposition from every front, and led to his death by poisoning.

See Also:
• A more detailed biography in Leaders and Pioneers
• A Timeline of Hinduism