B.L. Rice - Father of Kannada Epigraphy
Biography of  Benjamin Louis Rice (1837-1927)
Destiny played a big role in making Benjamin Louis Rice one of the greatest Kanndigas (the people of Karnataka). Although he was born to a British couple, he was born in Karnataka and went on to become a pioneer of Karnataka's history and language.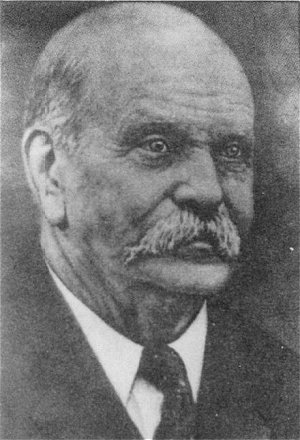 Epigraphist B. L. Rice
Benjamin Holt Rice was a missionary of  London Mission, who had come to India to spread the message of Christ, and convert people. He took charge of the Bangalore parish. To acquaint himself with local manners and customs, he learnt the Kannada language painstakingly. His wife actively helped him in his task of educating the poor. The couple did not succeed in converting the local population, but gained their respect and affection. Benjamin Rice born in such a congenial Kannada atmosphere in Bangalore in 1837.
B.L. Rice left for England early for education, but returned to India in 1860 as the Principal of the Central school (now known as the Central College in Bangalore). He later served as the Chief Census Officer in the administration of the Maharaja of Mysore, and as secretary of the education commission, helped formulate the education policy for the whole of British ruled India. He served forty-five years working towards spread of education, literature, and knowledge of history.
During his tours as inspector, he came across hundreds of ancient stone inscriptions, language and script of which was very different from the one in vogue. With the help of assistants, he edited, translated, and transliterated thousands of inscriptions. Rice alone is credited with finding nine-thousand inscriptions!
At his behest, the British Government started a Department of Archaeology in 1884. Rice was appointed as the head of the department. Between the years 1886 and 1904, Rice brought out twelve volumes of inscriptions in the former state of Mysore, each containing about thousand pages. These volumes are invaluable source to understand political and social history of the state through the ages.
Rice also brought out to light more than three hundred poets who were not so well known. He'd personally collected over three thousand Sanskrit manuscripts and published many of them. He brought out The Mysore Gazetteer documenting aspects of geography, history, and economics of Mysore and Coorg, which was first of its kind in India.
During his tenure, Rice discovered Roman coins in parts of Karnataka, as also some Ashokan edicts. This was astonishing discovery, and led to reconstruction of much of India's glorious history. Rice established that an important dynasty which founded the kingdom of Nepal owed its origin to Nanyadeva, who came from the Ganga dynasty of Mysore.
Rice was very proud of Karnataka's heritage and religious tolerance, and used to point out that this was the land that sheltered the three great acharyas of Hinduism (Shankara, Ramanjua, and Madhwa). He fixed the date of arrival of Jainism in Karnataka.
Modern Kannada owes a lot to this "White" Kannadiga. Rice passed away in 1927, one week short of his 90th birthday. He had laid a strong basis for the study of epigraphy and archaeology through the work "Epigraphica Carnatica", a name which has since become synonymous with his name.

See Also:
• Indian Archaeology
• Jai Karnataka -- Index of Topics
• Tracing History through Illustrated Memorials