Kamaladevi Chattopadhaya Centennial

Kamaladevi's life reflected a remarkable era in India's history; she lived the problems faced by Indian women, and triumphed in the Indian renaissance.

She was born in an intellectual family to Ananthaiah and Girijabai Dhareshwar in Mangalore. Even though well off, the sudden death of her father caused turmoil in the family, and Mrs. Dhareshwar lost her rightful inheritances. To reduce the responsibilities of the widow, Kamaladevi was married even when she was a child, and she herself became a widow, before understanding the meaning of a marriage!

The young girl had to face the scorn of an orthodox society, as the status of a widow was miserable then. Yet, Kamaladevi pursued education and her hobbies. She was a beautiful girl and took interest in arts and theater. A young poet Harindranath Chattopadhyaya, brother of Sarojini Naidu, fell in love with her, and despite their differences in caste and languages, they were married. The marriage did not last long, however.

It was the time in India when Mahatma Gandhi gave a call for freedom not only from colonialism but also India's own problems of untouchability, and poverty. He called upon women to fight side by side with men. Kamaladevi became an active organizer of the women and youth wing of the Indian National Congress. She was instrumental in the emergence of the changing face of the Indian woman during the twentieth century

© K. L. Kamat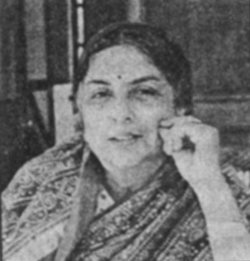 Kamaladevi Chattopadhaya (1903-1988)
Kamaladevi became a prominent leader during India's freedom struggle organizing satyagrahas, mobilizing volunteers and fighting deeply rooted social evils. She traveled all over the world publicizing India's cause.
Along with freedom in 1947 the nation of India inherited so many problems of the partition. Kamaladevi worked relentlessly to heal the wounds of refugees by establishing co-operative societies and self-employment schemes. She went on to rejuvenate the traditional Indian home industries like weaving, and handicrafts. As chief of the Board of Handicrafts, she started the pension system for the craftsmen.
Kamaladevi Chattopadhya's contribution in preserving and promoting India's art, culture, and heritage is quite unequalled. She served this cause till she was marginalized by Indira Gandhi's coterie. She continued to be great patron of Indian art and theater. Ibrahim Alkazi, the first director of National School of Drama (NSD) once narrated her love of the stage -- She would climb up four storied theater galleries even in her old age, would enjoy the show, and then meet the artists personally and offer congratulations, and tips for improvement.
She didn't care for personal recognition or wealth. What a selfless volunteer she was! She was a trade-unionist, a revolutionary, a reformer, a great patron of arts, an accomplished writer (she has authored twelve books), an orator, and a freedom fighter. A truly amazing woman from India. This week (April 5, 2003) we recognize her on the occasion of her birth centennial.
Excerpted from "The Woman Who Knew So Much" (Bahuballide Kamaladevi Chattopadhyaya in Kannada) from the book Nenapinalli Nintavaru by Jyotsna Kamat, Mahila Sahityika, Hubli, 2000

See Related Topics:
• Introduction to Indian Culture
• Gandhi and the Status of Women in India