Muthuswamy Dikshitar

Muthuswamy Dikshitar is considered one of the trinity of South Indian classical music (a.k.a. Carnatic music) along with Thyagaraja, and Shama Shastry. Born in Tiruvarus of Tanjore district (in the present day state of Tamil Nadu), Muthuswamy had initial training under his father who himself was a distinguished musician, veena player, and a Sanskrit scholar. Once Chidambaranath Yogi, a saintly scholar from Kashi was visiting South India, and came across the budding talent of Muthuswamy, and took him to Varanasi (a.k.a Kashi), a high place of study and scholarship since the ages.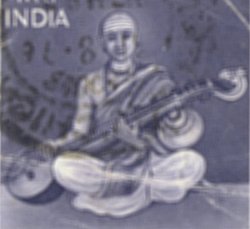 Muthuswamy Dikshitar ( 1776-1835)
Detail from an Indian Postal Stamp
In Kashi, Muthuswamy studied science (shastra) of music along with applications. He also learnt mantravidya and yoga. Those were the days when the arts and sciences were believed to have been born out of spirituality, and deep devotion.  While returning to his native place Muthuswamy passed through the town of Subramanyam -- a holy place dedicated to Kumaraswamy or Lord Murugan. He composed his nine famous keertans in praise of this War-God, and assumed the name of Guruguha. His brother Baluswamy was a court musician of Ettiyapuram. Muthuswamy stayed with his brother, and dedicated his life to music. He died with a composition on Goddess Meenakshi on his lips "Meenakshi me mudam dehi".
Muthuswamy was a famous vaggeyakara i..e., one who wrote special compositions set to music. Most of his compositions are in Sanskrit. He sang praises of Shiva, Vishnu, and Mother Goddess with equal devotion, raising music above the castes and creeds. He was very versatile and we see that he has adapted traditional Hindustani music ragas like Yaman Kalyan, Hameer Kalyan, and Brindavan Sarang in Carnatic music! He was the first to bridge the gap of two traditional schools of Indian music, and could be considrered  as the progenitor of modern Indian music.
He also composed some songs based on band tunes. There is no doubt that he was interested in Western music, which by then was making its way in Madras (present day Chennai) and nearby areas at the time. "Vatapi Ganapatim" is the most popular of his compositions which no Indian music lover can miss.
See Also: