Role of the Conch Shell
Conch (Shankha) in Indian Ethos
The  Conch has been in use in Indian households and temples for centuries. It was also used in battle-fields to sound horn. The conch is regarded as an insignia of Lord Krishna, and and is give the status of a sacred artifact in India.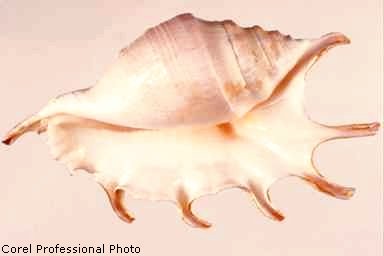 The Conch Shell
Bangles made with sliced conches represent non-widowhood (mangalya) in Eastern India, particularly in the states of Bengal and Orissa. Sindhur (Indian vermilion) prepared from burnt conches is a mandatory ingredient in all Hindu auspicious functions. Necklaces and jewelry  made with conches are believed to bring good-luck  and a lot of people in India wear them. Indian artisans have made decorative items such as paper-wrights, snuff-boxes and vases from conches for a long time.
In many  temples, blowing of conches forms part of worship and prayers. Tirtha (holy water) is poured from a shnkha, and the idols are bathed from the corner if a conch. Some houses and temples boast of century old conches.
Conch is one of the insignias of Lord Vishnu. He is often shown  with conch in one of his four hands. His conch is called the Panchajanya, believed to be born out of five elements (land, water, fire, air, and ether). In the prayer hall of pious Hindus, a respectable place is offered to a white conch.
Shankhanada (sound of the conch)  once was synonym with the battle cry. The soldiers took special care to pick and cure a conch and they had distinct characteristic sounds, so much glorified in the epic of Mahabharata. Devadatta was the name of warrior Arjuna's conch. The Pandavas had another huge conch (mahashankha) named Poundra, that is said to send tremors down the enemy camp when blown.
A conch can be of one of the two twists -- left twist and right twist. The right-twisted blowing conches are extremely rare. One such very ancient conch is preserved in the Krishna temple at Dwaraka.
In the hoary past, rare conches were used as currency. In the age of barter exchange, conches equaled gold and cows. Great conches are still considered as valuable gifts in many civilizations.
In Ayurveda medicines, ashes of conches is used as a base for pills and paste. Ancient Indian texts mention several skin ailments could be cured by wearing special conch necklaces and consuming the bhasma (ashes) prepared of conches.
Andaman and Nicobar Islands, Bengal, and Kanyakumari regions of India are well known for valuable and different types of conches.

See Also:
• Cowrie Seashell
• Historical and Cultural Artifacts from India
• Search for pictures of Conch in Kamat PICTURESearch