Pigeons in Postal Service
Ancient Indian classics tell us about swans, special Persian hawks , and pigeons carrying messages and letters to distant places. During the Moghul rule in India, the pigeons were commonly used to deliver letters and governmental dictums.  Manasollasa, a twelfth century encyclopedia tells us about the different species of the birds hence trained.  Those from Sindudesha, which had tufts in the head, had a loud guttural, and feathers in their claws, were considered the best. The pegeons were used in couples (pigeons are legendary love-makers and very monogamous) when deployed in carrier services.
© K. L. Kamat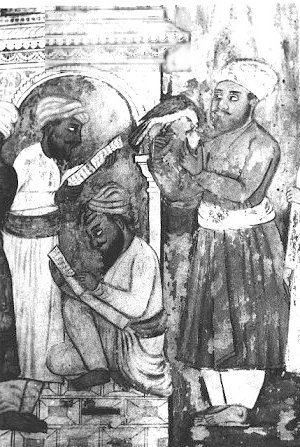 Detail from a mural shows bird being used as mail carrier
The male birds were nourished with good food and trained to take letters. In the days when horses were the quickest mode of transport, these tiny creatures flew hundreds of miles within a few hours. Letters were carefully tied to the rings fixed to the claws of the pegions. Separated from its mate when it was let free, the pigeon would fly back and reach its destination in no time.
Pigeon postal service is still  practiced (year 2003) in the state of Orissa. They are a boon in the thick jungles, and swampy areas where even telegraph facility is hard to reach. Since the year 1946, the Police force of Orissa has been equipped with a special team of trained pigeons  to convey  urgent messages. When Pandit Nehru, then Prime Minister of India, wanted to visit Sambhalpur suddenly, these birds were commissioned to convey the message to the concerned authorities, to make necessary arrangements.  During natural calamities like cyclones, storms, floods, and earthquakes, these pigeons don't sway from their duty.
I think that in today's India, amidst information technology revolution, some parts of the nation being serviced by these beautiful, loyal birds is quite fascinating.