Purusha Sukta

Purusha Sukta is one of the oldest hymns. It tells of the creation of Cosmos. It is the starting point of the pantheistic philosophy of India. This self born, all pervading Cosmic being offers himself for the welfare of mankind. "Purusha is thousand headed, thousand eyed, thousand footed He having covered the earth on all sides extended beyond it, the length of ten fingers.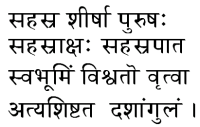 Purusha is this all
That has been and that will be
He is the Lord of immortality
Which he grows beyond through food
The body of the Purusha is the original material out of which the universe is made. The gods are the agents of creation. Here the acts of creation are sacrifice itself. Purusha offered himself for self sacrifice and out of him, this universe was made. As some scholars opine, this is anthropomorphism pushed to the last limit. Unity of world and God are perceived in the hymn. Even after self sacrifice, and creation of the universe, remains of the Purusha outlasted. Thus he was able to create recreate the future as well nourished by sacrificial food. (Purusha evedam sarvam . Yad bhutam,yaccha bhavyam.utamritatattvasyeshano yadannehatirohati.)
The hymn further states that from His mouth came brahmin, his two arms formed warriors, two thighs made way for Vaishya (traders)and his feet formed Shudra class. Some feel that beginning of caste system is suggested in this hymn. But in those days caste system in modern sense did not exist. Only four varnas existed. They were important limbs of a human being representing Cosmic Man. Perhaps they represent oral tradition of education (Brahmin), powerful arms (Kshatriya), strength and mobility (Vaishya and Shudra) of a healthy being or society for which all organs are equally needed.

See Also:
• Gayatri mantra
• Hinduism Potpourri