Remembering Tongas

Since hoary past, horse was an important mode of transport in India, till the seventh decade of 20th century. Bullock carts catered to rural transportation and elegant horse carriage (a.k.a Victoria) made way for cars in metropolitan cities. But tongas (a.k.a. tanga simple horse carriages) continued to ply in smaller towns. It was a middle class luxury. A tonga could carry a small family or travelers with luggage to bus stand or railway station.

The tongas caused no chemical pollution. They carried school children women and old people for nominal charges. One horse was a bread earner for a tongawala (the operator of the carriage) or two working in shifts. Fodder and water was provided by the bounteous nature. Normal Indian life was without hurry burry and the honest tongawala usually a Muslim, in Mysore and Hubli-Dharwad areas would spare no pains to reach the required destination of the passengers, in pouring rain or hot sun, covering the simple vehicle with tarpaulin.

Times have changed. Tongas have made way for Auto-rickshaws. Horse, which carried luxury goods and fashionable people, now carry loads of sugarcane and trash. The horse, a symbol of speed and steadiness (Ashwa) has become roadside cattle like a creature losing all its regal dignity.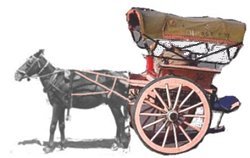 Mysore and Bangalore which once boasted of  "Shah Pasand" (pleasing to the royals) carriages are now housing endless three wheeled auto rickshaws. India that has no petrol of its own has to spend billions and billions to keep these automobiles running.
In India there is boom in car scooter (two wheeled) and three wheeler industries which run on foreign oil. No wonder Gandhiji was against speedy transportation for an agricultural country teeming with villages like India. Carts, bicycles, country boats and ships could have sufficed for everyday need. With flourishing automobiles the gap between Haves and Have-nots has increased in India bringing in more pollution in already crowded cities, followed by related ailments.
The rickety lone carriage here and there on Bangalore roads reminds me of a glorious past of getting down at Dharwad railway station in the wee hours of morning where the familiar tonga waited. It would take me to dear home with clinking sound of bells and horseshoed trot after a long train journey from Delhi.  
I mourn the end of a gentle and peaceful transport system.

See Also:
• Transportation Systems