Purandara Dasa

Purandaradasa (c. 1540 A.D) was a great literary figure of Bhakti movement, and revered as the father of Carnatic classical music (a.k.a. Karnataka music or South Indian classical music).† Purandaradasa was a great poet, social reformer, and a great composer. He preached the virtues of leading a pious life through his songs, knows as padas. His innumerable compositions render themselves beautifully to music, whether they are lullabies, folk-songs (kolšta songs), bhajans, or devotional songs. All of Purandaradasa's† works are in simple metrical songs, which can be sung on all occasions, and convey devotion in the Bhagavata philosophy.

Purandaradas is one of the foremost saints of India to understand the power of music and its appeal to illiterate common folk. His songs are sung in every village of Karnataka irrespective of the community. He achieved a rare synthesis of music and poetry.

© Vikas Kamat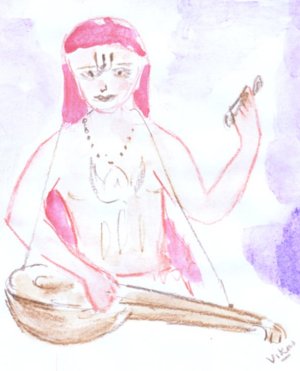 Purandaradas was the originator of the musical scale by which all the rules of Carnatic school are formed. His classification of swaravali, jantivarase, alamkara, and lakshana factors are accepted and practiced throughout south India. Purandaradasa's Pillarigeete (or four compositions) in praise of Lord Ganesh are practiced by students of classical music even today. His musical scheme was followed by all subsequent great composers of south India like† Venkatamakhi Kshetrajna, Tyagaraja, Muthuswami Dikshitar etc.,
Purandaradasa is credited with creation of 75,000 compositions, although only a few hundreds survive till today.

See Also:
• Bhakti -- The Path of Devotion
• History of the Kannada Language