Chilli and its Avatars
Chilli (Green pepper) and its Avatars
In Indian cuisine, the green pepper (or red when dried) called "Chilli", reigns supreme. An Indian housewife will be at loss if told to cook without chilli. Even poorest cannot do without chillis and salt.
© K. L. Kamat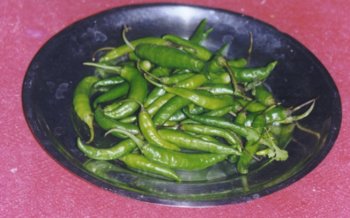 It is hard to believe that chillis, part and parcel of every day life today in India is comparatively a new comer in this land of spicy and hot food. It came to India via South America and Africa through the Portuguese in the 16th century. In the Indian subcontinent chillis first entered through Sri Lanka. In Bengal chili is called "Lanka".
From Vedic times till that century, black pepper and its varieties catered to taste buds of early Indians. In all ancient rituals, where food is offered to gods or manes, only pepper predominates, proving its ancient heritage.† Black pepper was known as maricha, and we see that the name for chillis in many languages of India someway reflect this relation to black-pepper (menasinkai in Kannada,† molgai in Tamil, melagu in Telugu, mirch in Hindi), which was similar in taste and pungency. In no time, chilli became immensely popular with the masses, and with regional nomenclature it attained umpteen number of varieties depending on clime and taste of locals.

Today form sweetish capsicum (bell-pepper) which adorns choicest dishes, to tongue-burning Guntur variety, from colorful reddish brown Byadgi to pinkish Kashmiri variety, the progeny of chilli is as varied in color and pungency as the skin color of the people of Indian subcontinent!
In the 17th chapter of Bhagavad-Gita (verse 8-9-10), it is told that from the food they relish people could be of three categories 1) sattvic 2) rajasic and 3) tamasic. Items that promote longevity, strength and happiness are sweet, bland, nourishing and agreeable, and sattvic persons go for it. Foods which are bitter, pungent hot and burning are dear to rajasic people. Half-cooked, insipid and stale food is relished by tamasic natured ones. Chillis belong to† the Rajasic taste, being pungent, hot and burning. Whatever the category, chilliís popularity is world wide. Whether the food is Chinese, Indian, Mexican or Italian, chilli dressing or sauce has to accompany the meal. Chilli pizza is a delicacy in India.
In earlier times, housewives and women were ready to face the dacoits and robbers with chilli-powder. Thrown unawares on the face and eyes, it blinded them helpless, albeit temporarily.
A type of hot chilli powder in South India is known as gun-powder is a popular appetizer.