Religion of Non-Belief!
The Religion of Non-Belief !
If rationality and secularism are strong points of a civilized society, ancient Indians had plenty of it. Being amalgamation of several cults, beliefs and practices, Hinduism at times baffles an average individual, just like the truth should, to a dedicated desciple.
While going through Subhashitas (wise words; epigrams) I came across verses, which make fun of ideas and things which are considered sacred by the Hindus.
Hinduism as a religion could never be confined to a single book. It is so vast as to include worship of stones and serpents from sacrificing animals to pure meditation of Brahman or the formless cosmic being. Hence there is no dearth of rationalists or even atheists who were non-believers. In the long run, 'non-belief' itself became a school of philosophy advocated by sage Charvak!
Charvakism is nearest, to epicurism which could be summarized as 'Life is merriment' in one sentence. The Sanskrit Subhashit runs like this :-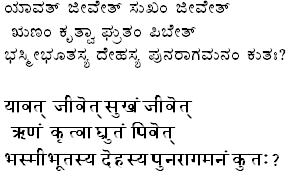 'Live happily as long as life lasts; eat ghee, even a debtor be! Where is rebirth to this body, once reduced to ashes?
Similarly, we know that shankha or conch is sacred to many Hindus, and occupies an important place in their rituals. But this belief did not come in the way of a poet, poking fun at conch.

"His father is the Great Ocean. His sister is Lakshmi, Goddess of Wealth herself. Alas! This conch cries in the hand of a beggar… Each according to his destiny!"
A beggar blowing a conch for alms is a common sight on Indian streets. This belies the wealthy birth of a conch whose father is termed a mine of jewels (ratnakar) and sister Goddess of Wealth. (Conch & Lakshmi were born one after another during churning of Ocean & hence are brethren)
God Hurts those Who're Weak!
The poet in the following subhashita mocks gods ability to protect the weak. He asks why the gods only consume the weak?

In a sacrifice nobody ever thinks of offering a horse, an elephant or a tiger. Only lamb, a helpless creature is killed at the altar. (Made the scapegoat). This makes the poet exclaim that God only likes the weak animal to be killed!

See Also:
• Hinduism Potpourri