Yummy Yam Cuisine

Popular Podis (a.k.a. Phodi)

India's Konkan coast (southwestern coast) is rich in yams, roots, greens as well as varieties of fish. Yams of 'Suran' (called elephant foot yam) Alva maddi, (leaves of which are used to make patrode) Kon (another type of yam) are used to make Podies, greatly relished by young and old. Properly baked, they taste wonderful, out-witting steaks and fried meats.

Ingredients:
Yam (sweet, suran, alva maddi etc.) 1/4 th inch thickness, round or oblonged depending on the shape of the yam.
Coriander powder - 2 table spoons (tsp) or green coriander leaf paste
Garlic paste/powder - 1 tsp
Chilli Powder - 2 tsp
Tamarind pulp - 1 tsp
Rice flour - 1 small cup
Oil for frying
Salt to taste
Mode of preparation:
Yams are washed cleaned and peeled. Cut into slices of 1/4th inch thickness. Marinate in tamarind and salt water for an hour or two.
Keep aside rice flour seasoned, mixed with garlic powder or paste, salt and chilli powder.
Marinated slices are to be rolled either sides in rice flour and put on a heated and oiled tava/frying pan. The flames should be moderate throughout.
Two tsp of oil is to be spread on either side on the slowly cooking Podis. If required water is to be sprinkled liberally on them to enable softening of Podis. 10-15 minutes are required for cooking depending on the quality of yam. Additional oil makes podis crisper. Podis are to be covered during cooking period.
It may be pricked with a knife to ensure that the lower side is cooked and may be gently turned over for better results
© K. L. Kamat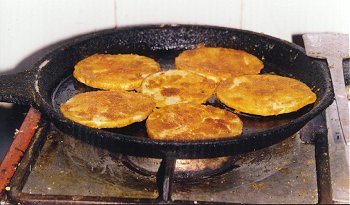 Roasted Alvamaddi Slices
Podis of green banana, big potato, sweet yam can also be prepared in a similar way. There is no deep frying. Hence Podis make healthy food.
Fish roast is done in a similar way. Paste of pudina (mint leaves), green coriander (cilantro) can also be applied to slices to have different taste. Podis in picture are of Valimaddi yam.


• Flowering Golden Tumor
• Picture of Valimaddi Yam