Builders of Lepakshi Temple

Builders of Lepakshi Temple Complex (1531 A.D.)

Lepakshi is a village in Hindupur taluk of Ananthpur district of Andhra Pradesh. Lepakshi seems to have been an important trade and cultural center in Vijayanagara times. Today, the Lepakshi group of temples dedicated to Papanasheshvara, Virupaksha, Raghunatha and Veeresha form an important place for students of history. Apart from iconography and numerous sculptures, it has rare paintings, murals and portraits of the brothers who built these magnificent temples. These brothers were Virupanna, Viranna and (Hiriya) Mallappanna.

© K. L. Kamat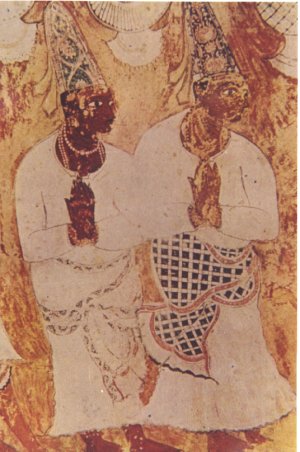 Brothers Veeranna and Virupanna, Lepakshi temple builders
These builders were the sons of Nandi Lakka Setti and Muddamma. Virupanna was the eldest and was a talavara or security officer of Vijayanagara City. Later he became chief of Penugonda region of which Lepakshi was the capital or important town. The second son Viranna was administrator of nearby town of Lakhnapura famous for Mahalakshmi temple. The third Mallappanna was chief of Bagur and Jajur, now in Chitradurga District of Karnataka.
King Achyutaraya who was ruling the Vijayanagara empire, made grants of villages as mentioned in the inscriptions. Some royal grants in different towns were issued by Virappanna ensuring his important status.
Viranna the second brother who was administrator of Lakhnapura collected toll and other taxes from traders big and small. He also constructed a canal from a spring in village Modaya which he named as Achyutarayapura in honour of his king.
The third brother Mallappanna seemed to be a popular chief. He was instrumental in remission of the marriage tax collected in the subdivisions which were under his supervision.
Many of the posts in medieval times were hereditary. But it is a note-worthy point that all the three brothers, though rich and influential, were of charitable disposition and humbly religious. They joined hands to build the big temple complex which needed enormous funds. Epigraphs mention liberal grants to the three temples. Two villages were purchased by the Lepakshi brothers for the worship of the deities. It is 'Trikutachala' (Temple-Trio) with common mandapa or corridor.
The natyamandapa (dance-pavilion) has many wall paintings depicting anecdotes from Sivapurana and especially Kiratarjuniya (Penance of Arjuna) throwing light on contemporary dress and ornaments. In the ceiling are huge portraits of two nobles wearing Kulavis. Kulavi or tall head-dress was typical wear of kings and nobles of Vijayanagara times. The two nobles are identified as brothers Virappanna and Viranna by C. Sivaramamurti. The costumes and ornaments in these paintings have a peculiar historical interest, he feels. They are depicted as receiving sacred ashes (vibhuti) from a purohita standing before their family deity Veerabhadra.
One argument is that these brothers were Veerasaivas. The deity Veeresha figures in Lepakshi. Another grant of Virappanna also exists in Veeresha temple at Kadur. Veeresha is a popular deity among veerasaivas and figures in several sculptures of Veerasaiva Mathas. If this argument is accepted, it all the more speaks of catholicity of the age and liberalism of the builders of Lepakshi complex, who did not differentiate between Saiva, Veerasaiva and Vaishnava deities.

See Also:
• Paintings of Lepakshi
• The Vijayanagar Empire
• Telugu Desam -- Topics on Andhra Pradesh